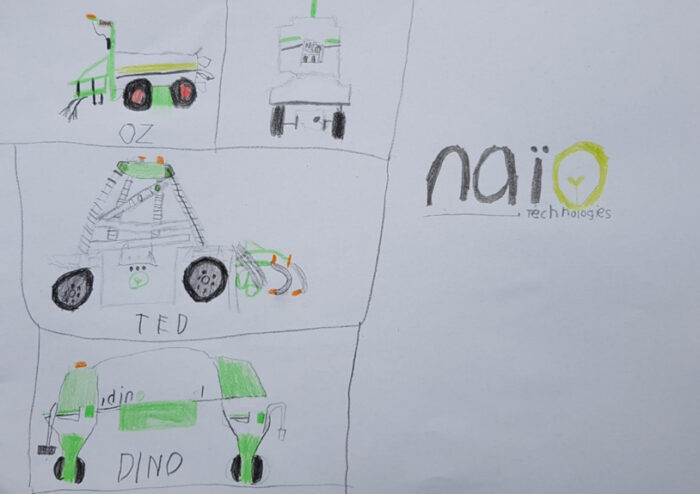 To our greatest pleasure, Naïo Technologies is little by little crossing borders, both geographical and generational. It was therefore with immense joy that we received a drawing of our Naïo robots last week from Zsombor, a little 9-year-old Hungarian boy.
After having thanked him for this very kind gift (and having sent a little Naïo cap for the coming summer!), we had a little chat with him (and his dad) :).
Zsombor dreams of becoming a farmer when he's older and of having some Naïo Technologies robots on his farm. Having first noticed Oz, the little market gardening robot, on a Hungarian TV programme, Zsombor found out a little more information via our YouTube channel. This is how he came across Ted and Dino, which he finds both "useful and intelligent". And when we asked him which one he liked the best, Zsombor immediately told us Oz, as it's the cutest in his opinion!
One thing is certain: our robots are still getting people talking and dreaming, whether young or old.
Indeed, Zsombor's drawing is only the first in a long series! If you'd like to send us your children's drawings of our Naïo robots, we'd love to see them!