A horticulturist's testimonial on using the Oz weeding robot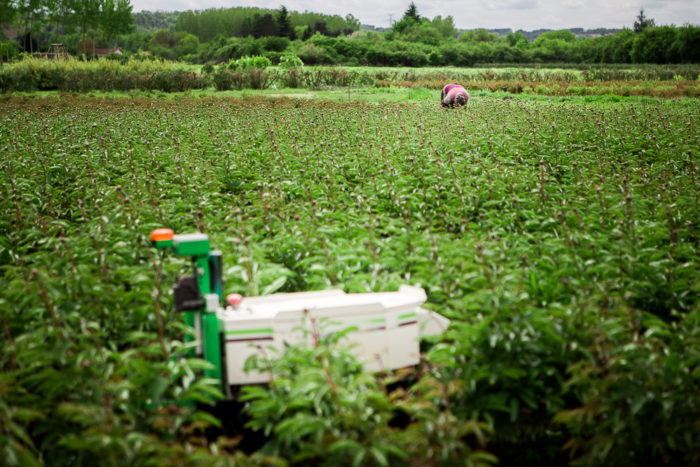 "OZ WEEDS OUR FLOWERS AUTONOMOUSLY"
The Pénisson farm is nested in the French Dordogne valley. From a distance, the farm looks exactly like its neighbours, with greenhouses, tractors and cultivated fields. However, a closer look reveals a distinguishing detail: between the rows of peonies, a strange machine seems to be working all by itself.
Four generations have succeeded each other on this family farm in the Dordogne. Camille, the 38-year-old great-grandson, took over the flower farm in 2004.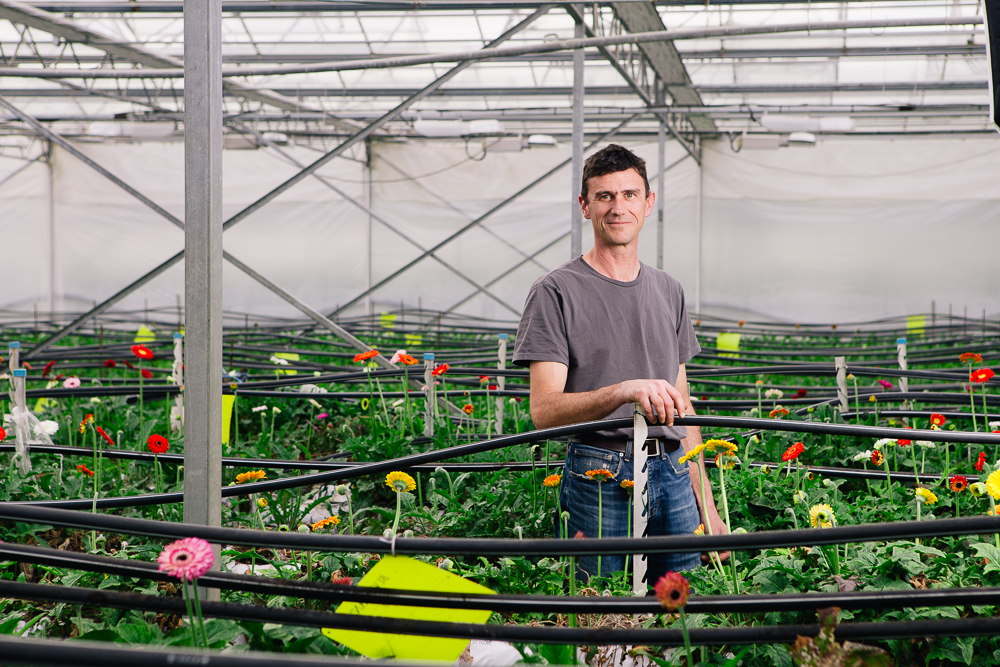 "THE IDEA BEHIND OUR FARM IS TO DELIVER FRESH AND DIVERSIFIED FLOWERS USING A SHORT SUPPLY CHAIN"
During our visit, we easily notice the large flower variety. "We've really diversified our production. Our goal is to offer the widest range of flowers possible, while using seasonal production to our advantage." Different growing methods are put into practice on the six hectares of land. "The heated greenhouses enable us to grow flowers in winter and we also rotate certain cultures, in unheated greenhouses and in the open air."
Three times a week, at 2 o'clock in the morning, Camille heads towards Bordeaux to deliver the day's production to local flower markets. "To compete with flower wholesalers who import from Kenya or Argentine, we wanted our farm to produce a wide range of flowers that are freshly cut when delivered. The freshness and direct delivery really make for a difference in flower quality".

"THE SOIL I DAMAGE WITH AGROCHEMICALS TODAY HAS TO PRODUCE TOMORROW'S FLOWERS"
For two years, the flower farm was granted Ecocert's organic agriculture AB label. However, Camille quickly struggled to obtain enough organic seeds to increase flower variety. "We then decided to switch to the Plante Bleue (Blue Plant) label, which is a specialized horticulture quality label that better suits our production." The label is granted to farmers who commit to environmentally friendly agriculture and implement an innovating social policy. "One of the goals of this label is to reduce the use of agrochemicals to a strict minimum."
On the two hectares of land that are dedicated to peonies, Oz gently moves forward through dense vegetation. In the autumn of 2014, Camille discovered Naïo Technology's weeding solution during a technical workshop organized by the regional EIG's Flower and Plants Technical Expertise Team. A couple of months later, Oz arrived at the flower farm. "To fight the weeds in my peony cultures, we nearly always relied on chemical weed killers." The goal was to reduce the three open-air applications per year to one single in-row application, if that still proved necessary.
During the first year, only one single round of locally applied herbicides was required. By limiting the three rounds of open-air spraying to just one local application, Camille cut his pesticide budget for peonies with 94%. "However, we've also compensated with some manual weeding, which is something we'd never done before." The extra manual weeding took up two half days with 6 people, which amounts to some fifty working hours.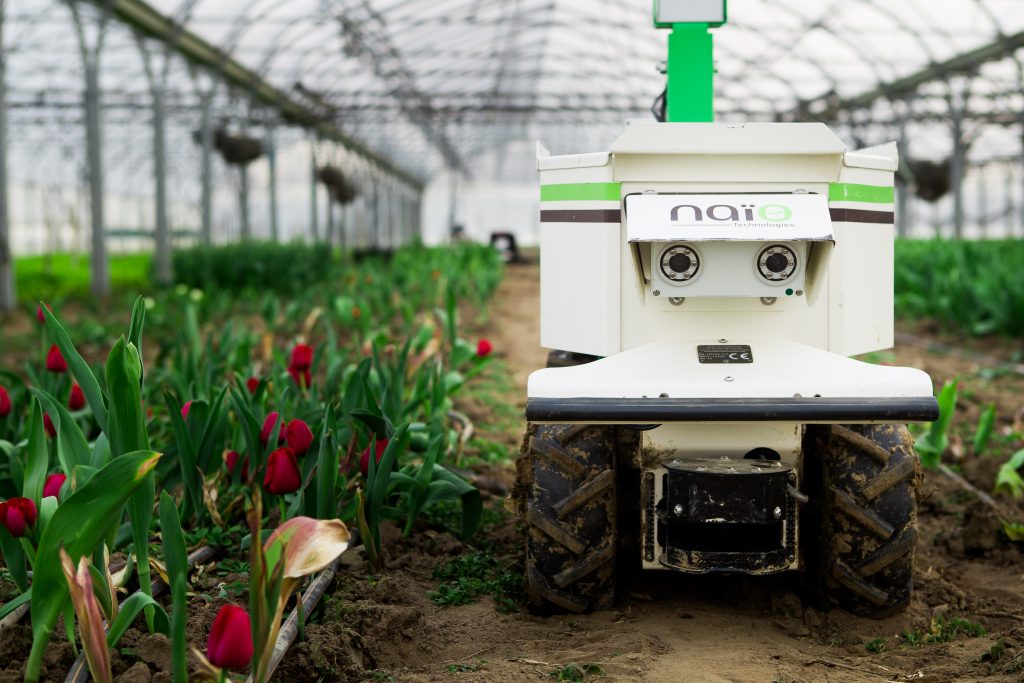 "REDUCING PESTICIDES FROM THREE SPRAY APPLICATIONS PER YEAR TO ONE SINGLE LOCAL APPLICATION DECREASED OUR PESTICIDE BUDGET WITH 94% FOR PEONIES."
In spite of the increase in labour cost, Camille thinks it will take about 5 years to absorb the robot's cost. "Beyond the mere economic aspect, I really value the fact that nobody will spend their time manipulating agrochemical products that will end up poisoning them. There's also an environmental advantage. The floral sector hasn't rejected agrochemicals yet." Environment is even more important to farmers who, like Camille, also live on the farm. "The soil I damage with agrochemicals today still has to produce tomorrow's flowers."
Learning how to use Oz may take a while. "I gradually memorize which conditions to reunite so Oz can work at full capacity." It wasn't a flawless start. "The Naïo team has really made me feel that our problems are theirs too: it's also in their best interest that the tool works well. At the start, they contacted us more often for feedback than we did. They've created a truly dynamic partnership based on exchange."
A subject that comes up several times in the conversation: the row ends where Oz has to make a half turn. If row ends aren't clean enough, the tool can't properly calculate its entry into the next row. "In January 2016, I hadn't had the time to prepare the row ends." As a result, they were completely covered in grass and Oz constantly required Camille's assistance. "On a really bad day, I had to go and check things 10 to 15 times in one battery cycle."
"However, before that, in autumn, everything went really well," adds Camille. "I'd properly prepared the plots and switched the robot on at 8 o'clock. It would work for four hours straight and then charge up at noon. In the evening, Oz would be ready for work again and I'd get it to charge before going to bed. The next morning, it'd be ready to go again!"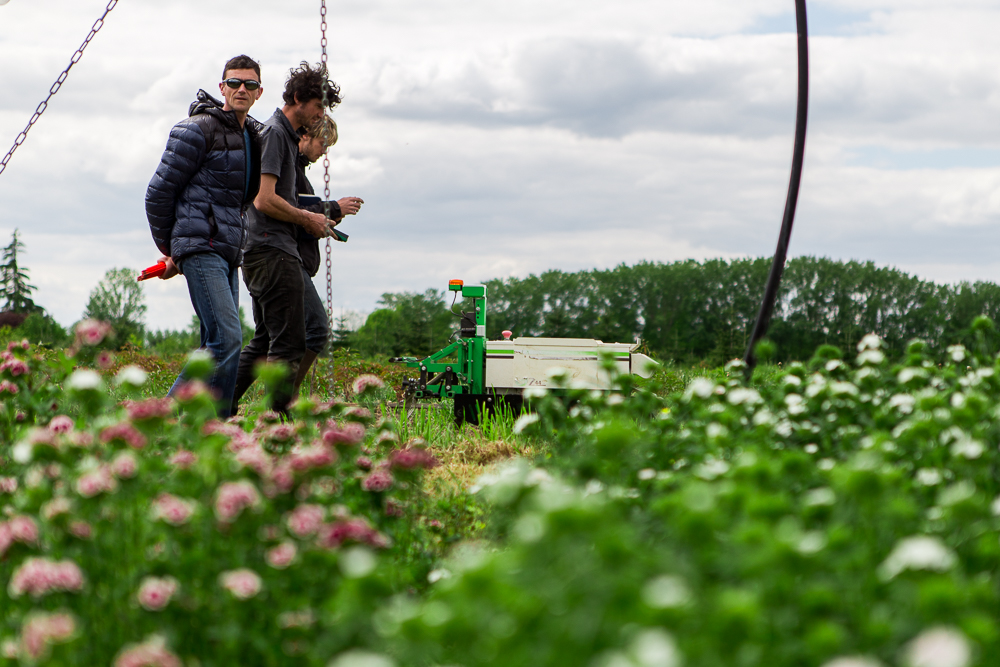 "NAVIGATION IS SECURE AND THE LEAF GUARD SYSTEM ENABLES OZ TO MOVE THROUGH LEAFY PEONIES WITHOUT DAMAGE"
In the long term, Camille plans to open up five hectares of land to grow produce. "Then row ends won't be a problem anymore." Unlike peonies, which are perennial plants, vegetable crops require regular plot maintenance. "While we're at it, we'll also maintain row ends. As long as those are clean, Oz is a perfectly autonomous tool."
According to Camille, Oz is also reliable. This year, it damaged about fifty peony stems from the 200,000 the farm produces every year. "The damage is minimal. Navigation is secure and the leaf guard system enables it to move through leafy peonies without damaging them. In the worst case, if conditions aren't right, Oz will automatically stop and send me a text message. It may require my assistance at that point, but I know there won't be any damage."
Even though training is required, Oz functions according to some basic principles, which, taken one by one, are fairly simple to manage. "What really matters, is to get sufficient training and learn how to parameter Oz correctly. Once you get the hang of that, it's hard to get it wrong."
Reliable, profitable, ecological, easy and autonomous… is Oz the ultimate solution? "Oz offers a potential solution to the problem of manual weeding. However, the tool requires farmers to make an investment. You have to think about the robot's arrival and adapt production accordingly. That's what we plan to do for our vegetable plots: we'll adapt our farm in order to use Oz at full potential. Maybe we'll even get a second one!"

Etablissements Pénisson
46, rue des Fontaines
33220 Port-Sainte-Foy-et-Ponchapt
FRANCE
http://penissonfleurs.fr 
Text et photographs – Tien Tran