WEEDING VEGETABLE BEDS WITH OZ – TESTIMONIAL PART 3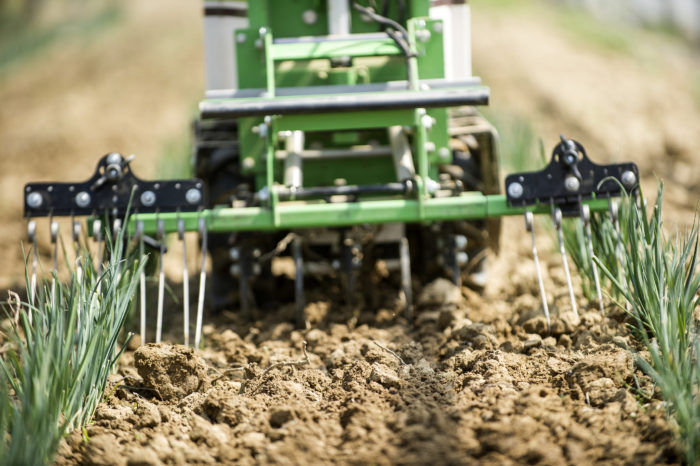 Spring is here and the weeding season is well on its way now. Time for us to return to the French Aveyron region and see how Bastien Puech, one of the 4 co-founders of the GAEC de la Ferme d'Agen, is doing. Bastien has been using the Oz weeding robot since early 2018. The robot is now in its second weeding season and has some highly appreciated new functionalities and a novelty to offer.
Skipped vegetable beds, a new functionality for Oz
The weeding season looks promising in the village of Agen-d'Aveyron. Oz, the autonomous weeding robot, is hoeing the vegetable beds and has been fitted with some new functionalities. "Its autonomous guidance system and turn-around efficiency have been improved upon", explains Bastien Puech. "But, above all, it has been equipped with a new evolution that really changes things for us: it can now manage skipped rows. We're used to working with bed formers and are now able to sow directly in the beds to stimulate crop growth at the start of the season. This really is a big step forward for us, since it allows us to continue the practices we're used to when it comes to crop management."
Better autonomous guidance and turn-around efficiency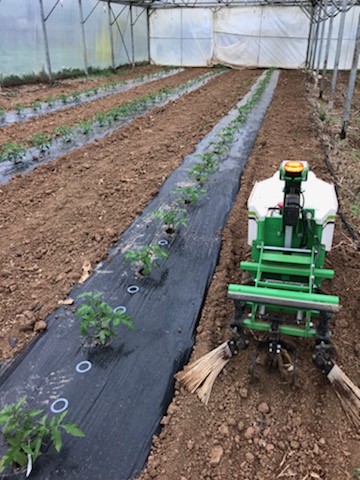 And the timing of these new functionalities is perfect. Since the start of the season, Oz has been hoeing the 1000 m² of green beans (shallow seeding) in the greenhouses two to three times per week and the cabbages twice a week. When the rains stop, the robot will also take care of the maintenance of the crops in the field: the peas and beans that are sown with the bed former at the start of the season, followed by the flat-seeded crops.
The summer crops (tomatoes, zucchinis, bell peppers) are already visible in the covered beds. Thanks to its improved turn-around efficiency and guidance system, Oz respects the covers. "The robot is becoming an essential asset to our vegetable farm", Bastien continues. "I aim to have it work four days a week this season". And, here's the icing on the cake: Oz also starts up a lot quicker now, much to the satisfaction of its users!
To learn more about the Oz robot: https://www.naio-technologies.com/en/agricultural-equipment/weeding-robot-oz/