Weeding aromatic and medicinal plants with Dino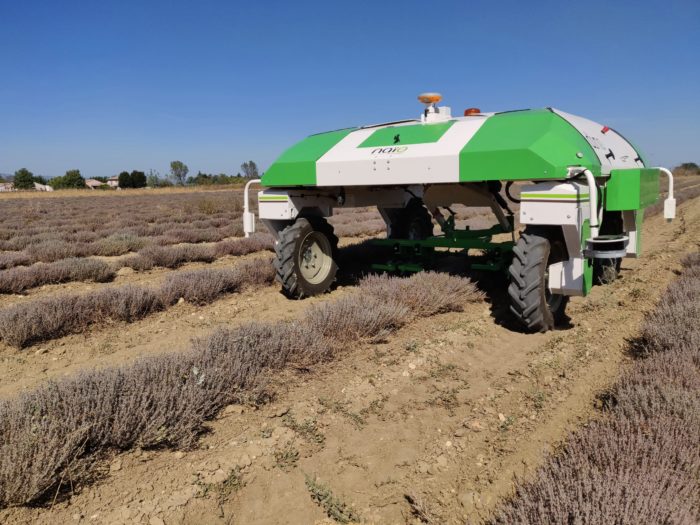 Weeding aromatic plants and medicinal herbs is far from easy but absolutely crucial, especially for fragrant plants, which are very sensitive to weeds and require long hours of work… The Dino robot provides a new alternative
Aromatic and medicinal plants & herbs in France
In France, aromatic and medicinal plants and herbs cover 53,000 hectares of land surface, and most crops are located in the country's south-east. In the Drome department alone, 1,000 scented plant farmers cultivate 8,000 ha of crops, often in sloped and rocky plots.
The aromatic and medicinal plant sector includes over 150 different plant species, with lavandin and lavender species as the main crop.
Weeding aromatic plants, a complex task
Weed management is a crucial issue, especially as some types of weed endanger the crop if they're rich in alkaloids. Weed management in scented plants is therefore highly crop-dependent, which makes it complex.
« With lavender, lavandin, thyme, savory and rosemary plants that are in rows of &.80m wide, inter-row weeding is relatively easy. Except during the first year, when plants are still fragile. However, it then becomes harder to get really close to the plants without harming them. For crops that are planted in rows, we generally use the same types of machines as for large-scale farming crops», explains Cédric Yvin, a Chamber of Agriculture consultant for the Drôme department, who specializes in scented plant crops and is the regional technical advisor for organic medicinal and aromatic plants.
Weedkill treatments that inhibit germination can be used in traditional scented plant farms at the time crops are planted . However, crop rotations take much more time in organic farms (30%) and require a more frequent use of rotary tillers, spiked harrows or spatula paddle hoes.
A new weeding alternative: the Dino large-scale weeding robot
Most crops still require a lot of manual weeding with a pickaxe and scented plant farmers spend 30h to 100h per hectare to keep their crops clean. Demand for row and inter-row weeding automation is high.
In this context, Naïo technologies' Dino robot offers a new alternative, thanks to its wide range of mechanical weeding tools. The robot also holds the additional advantage of limiting soil compaction for aromatic and medicinal plants and herbs!
To learn more about the Dino robot, visit the Dino webpage