Using innovation to improve agricultural ecosystems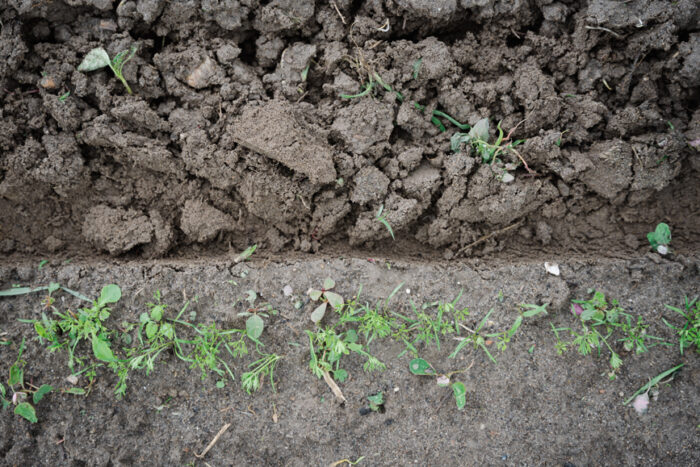 A test plot is going to be implemented in Toulouse alongside the Naïo Technologies headquarters. It's a strategic stage in this project, whose prime objective is to acquire some technical references. One of its priorities is to improve the surrounding agricultural ecosystem with the help of Oz, Dino and Ted.
An agricultural project, first and foremost
Matthias Carrière, sales director and an agronomist by training, is aware of the importance of soil surveys for the success of this project.
"Soil surveys have been undertaken on the plots. They are important for deciding on future rootstock and varieties to plant in the vineyard plot. We also know that herbs or vegetables have particular needs which have to be met for optimum production."
Elements such as the level of organic matter or various nutritive elements, pH, C/N ratio or soil texture are essential for thinking through the chosen rotation and necessary work.
He is already planning the planting of intermediate crops to ensure soil coverage. Fallowing will also be one of the techniques used, with the conservation of the surrounding hedges and ditches, in order to develop the ecosystem's biodiversity.
External partnerships and in-house agronomic skills
Informed choices will be made using all available resources, both external and in-house.
"We are working with a laboratory on soil analyses. They give us the best advice they can, just like the advisers from the various local technical bodies, such as the Chamber of Agriculture.
Naïo Technologies is also lucky to be surrounded by collaborators with interesting profiles: "agronomists and land technicians supporting this ambitious project."
Testing the products under real conditions
The validation of the robots under real conditions is very important for Naïo Technologies. "We have always done this on diverse plots, often on our clients' farms. Now, the test area is located alongside our premises in Toulouse. It's a real chance for the design office, who will be able to validate a first battery of tests under real conditions really easily and with no geographical constraints."
The structure of the vineyard plot, "with varying spaces between the rows, will allow the testing of the different versions of Ted, whether in terms of software, mechanical elements or tools".
The plots under greenhouse cover or out in the field will be used for testing other tools or other features on Oz: "tracing a furrow or sowing seeds are being studied, for example."
The algorithm test is one of many trials to be carried out on Dino.
Agronomy, tests, demonstrations and training courses
The plot is also destined to be used for the organisation of demonstrations or training courses for prospects, clients or distributors. The knowledge of this plot, its soil, plants and the plot's history make it a dream environment for being able to pass on expertise within a controlled setting.
Matthias Carrière is enthusiastic: "What you have to remember is that we are in line with the company's values by investing in this project. The approach is first and foremost an agronomic one. It's global thinking with the goal of integrating our innovative solutions for the long-lasting improvement of an ecosystem".