TED robot weeds Château Angélus vineyards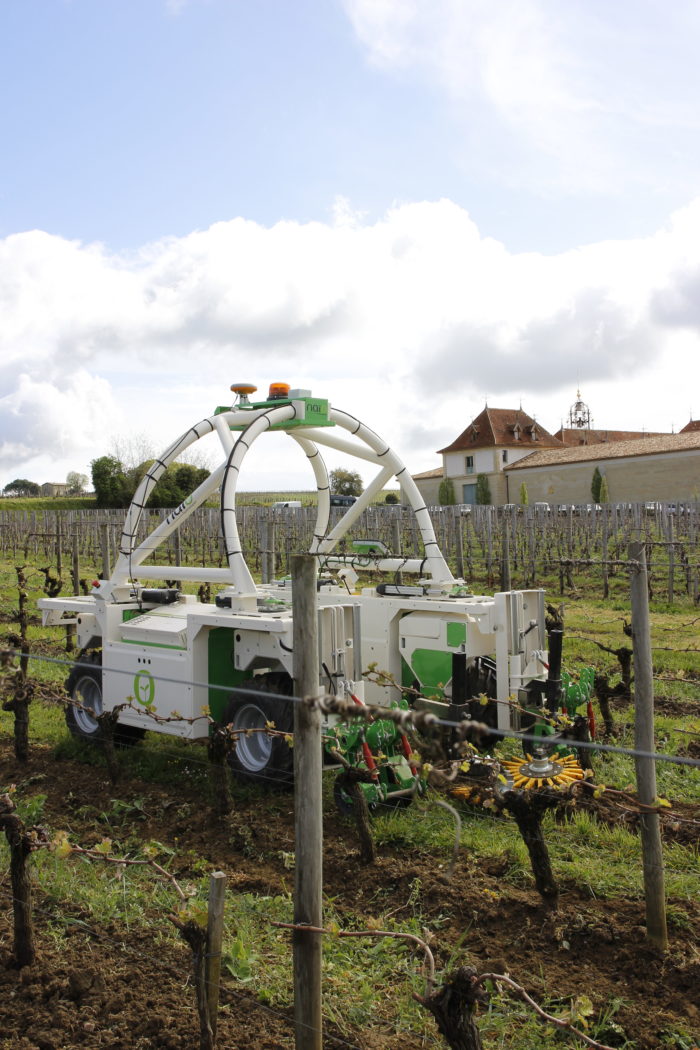 The Château Angélus vineyard in Saint Emilion has been converting to organic since 2018, but had already banned chemical weedkillers for several decades. Historically, Angélus vines are weeded and maintained using active and passive mechanical tools. Naïo's TED robot has recently been added to the tool pool to contribute to strategic inter-vine maintenance.
Naïo Technologies' vineyard weeding robot TED entered the Saint-Emilion vineyard in March 2019. However, the robot's goal was not to revolutionize standard practices at Château Angélus; the estate's team mainly focussed on the robot's agronomic assets. "Ted only weighs 900 kgs, so it will entail less soil compaction and damage. Its wheels leave no trace and the alleys will be spared. This is excellent news for inter-row weeds in all our plots. The robot will help us preserve soil biodiversity and other vineyard life", explains Benjamin Laforêt, the Château Angélus R&D manager.
Ted is part of the estate's environmental quality policy and also brings other advantages. "In times of high activity, such as spring, we need more machines and drivers to work the soil. An electric robot will lighten the workload of our team for these tasks. That way, they can focus more on the quality-related aspects for the management of our organic vineyard."
See this publication on instagram
A customized weeding robot
Before sending Ted into the vineyard, the Angélus tractor drivers wanted to install their own tools on the robot, doing away with the adjustable feeler blades and replacing the Kress fingerweeders in the back. After some cutting, soldering and testing, Ted was fully equipped with inter-vine blades and a pair of disks. "As soon as we made the adjustments, the robot did exactly what was expected, in the same way as our other mechanical tools." Mapping an 8 hectare plot was the first step. To do a proper job, Ted would need to pass through the rows every 10 days. At this point, depending on weather conditions and working speed, Ted needs a week and a half to two weeks to cover the entire plot. For the moment, the work is done alternatively by Ted, a tractor, a horse or a straddler.
Work in progress, progress in work
So, is Ted "just another tool"? Not really. The estate's teams are very much aware of the robot's growth potential and are eager to participate in the robot's evolution. "To us, Ted is a very advanced prototype but it requires a bit more maturity. The idea that we can contribute to its evolution to turn it into a fully functional tool is very exciting," smiles Benjamin Laforêt. As a pioneering vineyard, Château Angélus has signed an R&D contract with Naïo Technologies to test the robot in real working conditions and contribute to its improvement.
Working speed, tool function, potential bug detection… The Angélus team watches Ted's every move and keeps the Naïo team informed of their remarks, ideas and results. "Naïo's reactivity is extraordinary, with very fast software evolutions and technique adjustments. They quickly ship spare parts or even come over to solve issues we come across. The team really listens to our feedback and focuses on our needs to improve Ted even further. Recently, we've suggested some technical adjustments to the tool carrier in order to make mechanical interventions easier," details the R&D manager.

Moving forward together
This true partnership is designed to turn Ted into the best weeding tool possible for vineyards. "Naïo relies on the expertise of our tractor drivers and can experiment in a real-life environment," which allows field observations in a specific vineyard, with its typical soil, weather conditions and grape varieties…
For the Angélus team, their goal is to "have a fully autonomous Ted working all over the estate. Our satisfaction will be to have been part of the project to develop a robot that perfectly fits our vineyard's needs and requirements."
For more information on the Ted robot.
Photo credits : Château Angélus