Ted in a private demonstration in the vineyards of Saint-Emilion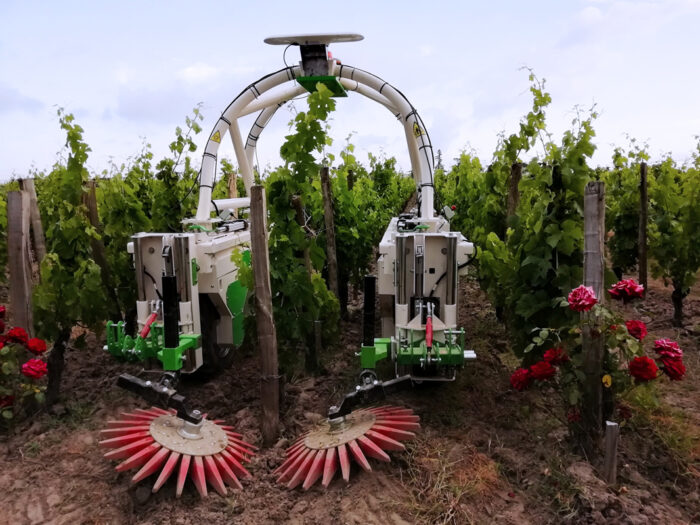 The partnership formed with CLAAS Aquitaine is coming to fruition in the Bordeaux region with Ted. Two large Saint-Emilion estates have been able to benefit from customised demonstrations: at Château Cheval Blanc and Château-Figeac. The constant search for innovative solutions to produce these Premiers Grands Crus Classés is something they both share. The spokesmen for these estates have welcomed these demos, which have allowed them to assess the robot's adaptability to their own plot structures.
CLAAS Aquitaine is organising private demos with Ted
For Alexandre Caillet, a salesman within the dealership, "CLAAS Aquitaine is well-known in the Gironde region for its expertise in wine-growing equipment". Harvesting machines, tractors for wine growing, tractor-drawn equipment for wine growing and various high-clearance tools have been available for years to demanding clients looking to the future of wine growing. There was a ready market for a partnership with Naïo Technologies!
Being accustomed to these clients and understanding the issues behind the use of a robot such as Ted, CLAAS Aquitaine has been offering private demonstrations this year. "Each estate has been able to benefit from Ted's work on one hectare for two days at a time. They have been able to watch Ted in action and to confirm the technical feasibility of its work on the structures of the vineyards in question". The dealer's teams have been able to collect some interesting feedback for Naïo Technologies. One challenge is the addition of features to adapt it fully to the zone's requirements.
Why use Ted in wine growing?
Innovation is at the heart of the two wine estates' strategy, whether in human, technical or agronomic terms. Ted blends perfectly into this philosophy.
According to Christophe Lafon, from Château-Figeac, in relation to the positive impacts of Ted's use: "It's an electric robot and its use will diminish the impact of the estates' carbon audit". This is an important point, when it is recognised that both estates are implementing various steps to reduce their environmental impact (HVE Certification, ISO 14001, protecting biodiversity with the planting of hedges, bio controls etc.).
In addition, Ted is a perfect alternative to "reduce the technical deadlocks linked to the prohibition of weed killer treatments and products around the vines", according to Christophe Lafon "even if we are already using mechanical weeding!" just like Château Cheval Blanc.
See the robot working on your own plot
Nicolas Corporandi, from Château Cheval Blanc, assures him: "Adjustments are simple. We've seen what works and what works less well with the various configurations possible on our estate."
As well as finding out more about the robot, the demonstrations organised by CLAAS Aquitaine have allowed a real perspective of Ted within the estate's environment. At Château-Figeac, Christophe Lafon and Cécile Loqmane confirm: "Our employees felt the robot was in competition with them. This has given us the opportunity to let them know that this is not the case." Nicolas Corporandi is totally in agreement: "Integrating a robot like Ted will change things, that's for sure, but the expertise and craftsmanship of vineyard employees remain essential". The robot will therefore not carry out all the work. "The employees' sharp observation and knowledge will always be necessary, for changing tools, deciding on the technical itineraries or the frequency of passage etc."
Ted also contributes to decreasing the drudgery of wine producers' work by carrying out the repetitive jobs. The employees' skills can therefore be brought to bear on the most added-value jobs. For Alexandre Caillet from CLAAS Aquitaine, "Carrying out private demos allows us to focus on the relationship between the client and the machine". He can see an opportunity there for the wine-growing estate to reflect on its investment project based on some very concrete information. In any case, the dealership is committed to this strategy: "We have a large number of clients on the waiting list", proving that Ted has a bright future ahead!