Robots to reduce drudgery in agriculture – Naïo Technologies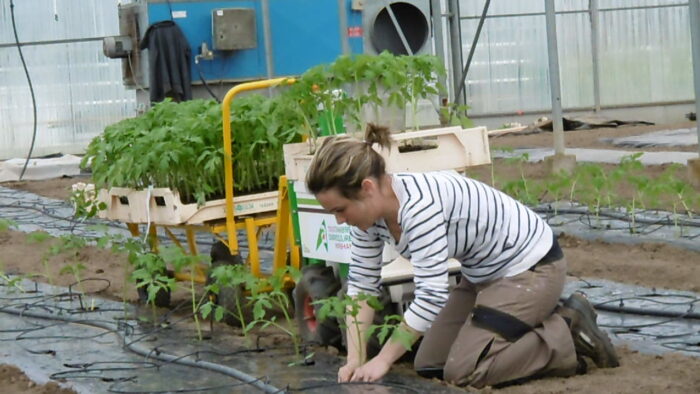 Maët Le Lan coordinates the Bretagne Sud Experimental Research Station in France. She's already been testing the Oz farming robot for over two years in order to research its potential in reducing strenuousness and drudgery in agriculture. Here's what she says: 
Reducing drudgery for organic farmers
The role of the Bretagne Sud Experimental Research Station, which will soon be integrated in Brittany's Chamber of Agriculture, is to study different solutions in the following themes :
organic farming techniques,
organic materials (French reference station),
soil-less red berries,
variety testing,
alternative methods for crop protection.
Currently, the station is conducting 15 trials on 4 ha, half of which are organically managed.
"Reducing the long working hours and drudgery in organic farming" is the name of the project we selected for the Oz farming robot. This project is truly unique. It's funded by France Agrimer and consequently has nation-wide scope !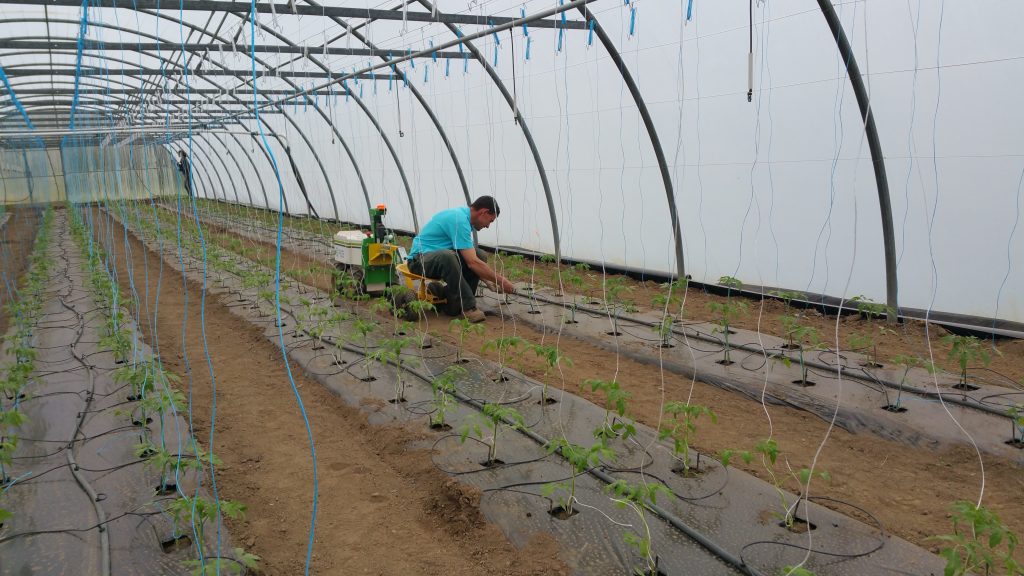 Less manual weeding and help with crop maintenance 
Maët's research aims to limit manual weeding by testing different strategies :
– 6 crops in 4 years :
One control plot where traditional techniques are used,
One robot plot, with the Oz weeding robot,
– 2 disintensified rotation strategies with 4 crops over 4 years to stop summer weeds.
We also study ways to assist farmers in other crop maintenance operations by comparing a control plot using traditional tools to a plot that uses the robot to assist with all crop maintenance work:
Planting
Trellising
Debudding
Leaf-thinning
Harvesting
Drudgery in agriculture: farmers are opening up!
I first saw the Oz weeding robot at the SIVAL fair in 2014. It was love at first sight: I immediately saw its potential in assisting crop growers. Later, we organized an open farm day at a produce farm on the theme: "How to reduce the drudgery of farm work?".
The open farm day was a huge success. An attending risk advisor from the French Farmers Social Security Fund MSA gave tips and advice, at which point some of the women started speaking out about their daily concerns. They talked about how hard and strenuous their work is for them and their husbands. Some of the farmers mentioned how tired they often are. A couple of them- they weren't even 40 – said they were already completely worn out. We all felt the problem was real and something needed to be done ! That's when we got the idea to create a project around the farming robot.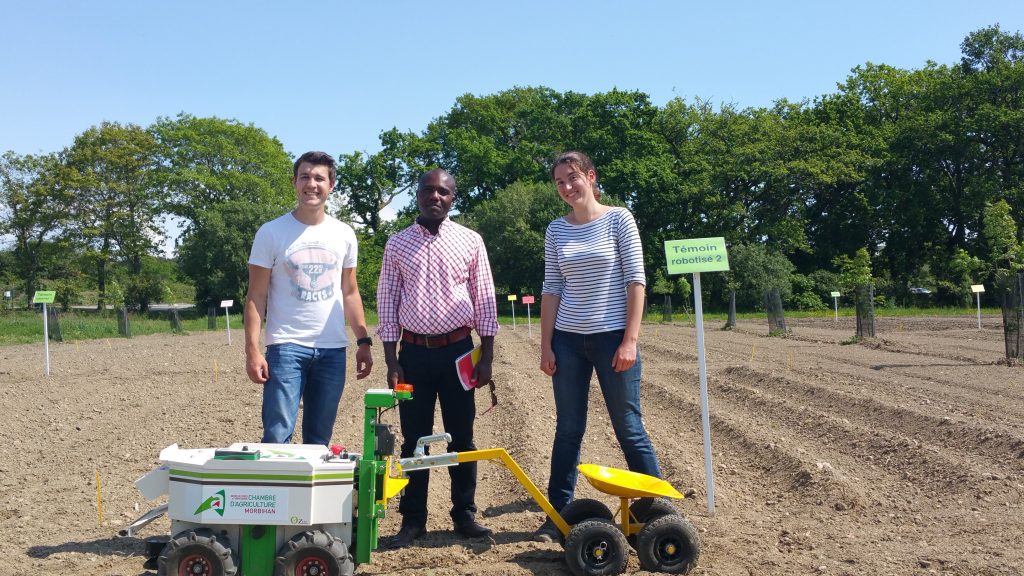 9 Farmers out of 10 have musculoskeletal disorders
Why's that number so high ? Produce farmers generally grow a lot of different crops on small plots. Crop diversification complicates the use of mechanical techniques because every crop requires its own investment ! As a consequence, manual weeding takes up a large amount of time for produce growers, whether they work traditionally or organically.
Farm robots have real potential in reducing drudgery !
Farm labour remains a delicate subject: produce growers often have a hard time retaining farm workers. Repetitive hoeing is difficult, hard work but that's not the only work that's required. When I hear a farm robot could replace a person, I really don't agree. It's more likely the other way around !
A farm with a weeding robot will free up time for the farm worker to accomplish more diversified and interesting tasks. Moreover, the robot will also reduce the time farmers spend on manual weeding and leave more time for tasks that actually help bring in money.
A farmer who uses the Oz robot recently told us that he's finally been able to hire a farm worker. Thanks to the robot, his summer crops turned out really well and he had more time for harvesting and sales, which left him with enough revenue to hire extra help.
French MSA scales to objectively measure drudgery
We've worked with the MSA, the French Farmers' Social Security Fund, to establish scales that objectively measure the drudgery of specific farming tasks. The scales vary according to the action accomplished, the required body posture, a load's weight…
The final results of our research should be available in two years time but our preliminary results have already been favorably received by France Agrimer.
Learn more about the Oz farming robot Maët uses for her research.