Rewarded at Agritechnica 2019, Dino reveals its complete solution for precision weed control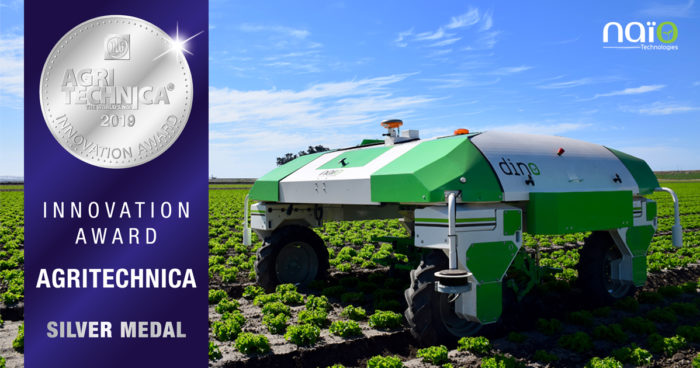 The Innovation 2019 silver medal winner revealed by Agritechnica, our Dino robot is now equipped with an innovative inter-plant weed control solution. By associating a deep learning crop detection technology with a precision electric in row tool, Naïo is capitalising on existing solutions and bringing its own know-how to the field of technological innovation.
Dino will be honoured at Agritechnica, the global agricultural machinery show in Hanover (Germany), from 10 and 16 November 2019*. Naïo Technologies, the only French agricultural equipment manufacturer to be rewarded, has just been distinguished with an Agritechnica Innovation Award silver medal selected from among the 291 innovations proposed. A prize that rewards our complete solution for lettuce crops, well positioned in the theme selected by the trade show this year: Global Farming, Local Responsibility.
This award offers us the opportunity to tell you more about the new product that we will be presenting there: the first prototype of a brand-new solution, the combination of an in row tool mounted on our Dino weed control robot.
Plant mapping and in row tool
In a complex legislative climate for weed control and with the well-known difficulties of finding qualified workers, many lettuce farmers are looking for an inter-plant weed control solution.
Indeed, although inter-row weeding is very common, many farmers are not equipped to effectively eliminate weeds between plants within crop rows.
That is why, for several months, Naïo's R&D teams have been working on different solutions for equipping the Dino robot. Already able to weed between rows, in the future it will also be able to weed between plants thanks to a plant detection solution combined with an in row tool. In order to develop this complete weed control solution for lettuce crops, the work has drawn inspiration from existing tried and tested approaches and introduced latest-generation technologies to create an effective global solution adapted to farmers' needs.
It is composed of a crop detection system below the robot that uses deep learning technologies. Thanks to prior learning and training, the machine is able to recognise and distinguish lettuces whatever their colour, variety and stage of growth. By using a combination of cameras and a GPS tracking system, Dino is able to determine the location of plants with great precision and in real time as it passes over the beds.
It then just has to start the in row tool with which it is now equipped, since it knows exactly in space and time, when to open and close the knives so as to weed as close as possible to the plant without damaging it.
A complete crop management solution
By developing this crop-mapping solution and combining it with an electric in row tool, Naïo is bringing Dino into a new era. Hoeing is more effective, partly thanks to the precise weed control offered by crop-mapping and also thanks to the knives, the movement of which is smoother because of the very accurate electric operating system. Thus, the problems caused by existing pneumatic (dirt projections, sudden movements), or hydraulic (complex maintenance, oil discharged on crops) tools have been eradicated.
But the solution goes much further because it equips a robot that offers farmers many advantages: electrically powered and with a very precise autonomous guidance system, it does not emit any greenhouse gases, requires very little maintenance, and is equipped with an extremely advanced security system. Lightweight, it has also been designed to avoid earth compaction. Thanks to its autonomy, the actual investment it represents is lower in view of the cost – and shortage – of a qualified workforce that would be necessary for a tractor equipped with a hoe.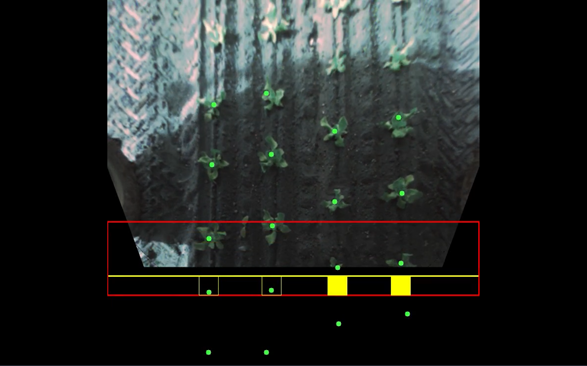 Although up until now, Dino was a mechanical robot devoted to inter-row weed control, it is now designed as a robot for autonomous crop management. It now weeds around plants helping to better control grass cover and the seed stock for the following years. Apart from precision weeding, the crop detection system opens up many new opportunities for farmers, especially in terms of data acquisition, with potential applications such as plant counting, lettuce size appraisal, the estimation of harvest dates, and even for future thinning actions, localised fertilisation, and all other targeted actions; as well as the potential use of this technology for other crops. Therefore, robotics has a promising contribution to make to future changes in farming!
Dino even more effective in 2020
The global solution equipping this first prototype will be deployed from 2020 on our partner farmers' Dino robots. In order to improve and extend our robotic solutions even further, there is nothing quite like feedback from the field in a spirit of co-construction. Please contact us if you are interested in helping us work for the agriculture of the future by becoming one of our partners!
* Find us from 10 to 16 November, at the stand B04 Pavillon 11 and at stand G30k Pavillon 15, at the Agritechnica trade show in Hanover (Germany).