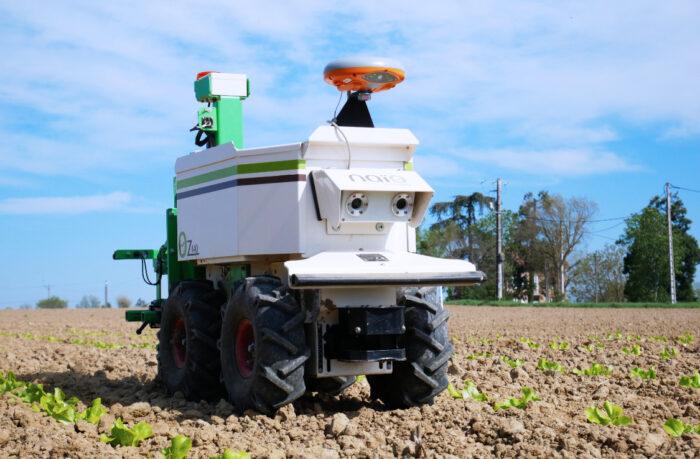 Several weeks ago, we announced that our Oz robot had had a makeover! The new Oz.3 version, with its RTK GPS, has considerably widened its scope.  The first comments from farmers using Oz are very encouraging.
The farmers all agree on one point: that the addition of RTK has revolutionised Oz's use!
"It's super practical and very precise"
Matthieu Follet, a young farmer from the south of the Landes region and manager of a farm in Thétieu, has owned an Oz for two years. He's therefore been able to recognise the considerable improvements, which he regularly shares with us. First of all, he has highlighted the increased precision which the RTK GPS provides: "precision is important (…) and allows for precise mechanical weeding". Hoeing around beans is more precise, "error-free and to within 5 cm of the row". His next step? Hoeing carrots to within 2/3 cm of the row.
"A first hoeing using RTK and it's perfect. (…) It's a life-changer"
Matthieu Follet has also vouched for the increased reliability which the added GPS has brought: "I've had the Oz for two years, but with the recent installation of RTK, guidance is a lot less laborious than when using rows and posts".He has also admitted to having used his OZ RTK in dreadful conditions (wet soil, rain) and it's has "worked very well", which would suggest it works even better in good weather conditions.
Same observation from Alexis Leveque, farmer and manager since 2016 of Les Jardins de Purnaud, located in Nouvelle Aquitaine: "A first hoeing using RTK and it's perfect: no more red posts, no more stoppages for a blade of grass. Quite simply, it's a joy and for once we left it to work really independently and it's a life-changer."
Oz with added flexibility
While the former Oz was confined to weeding, farmers are delighted to finally be able to use Oz for more varied tasks, as Matthieu explains: "I did some hoeing and sowed some beans: it's astonishing". He also explained that he had been able to plot a line, something he was not able to do before.
There's still plenty to discover about Oz!