Oz in the Netherlands: taking stock of innovative agriculture with Abemec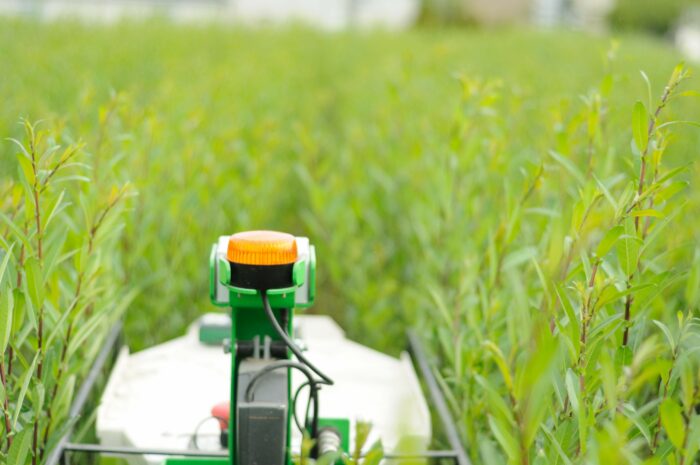 Naïo's long-standing supplier, and distribution partner in the Netherlands since the start of 2019, rapidly became the representative for our innovations on Dutch soil. Onsite demonstrations focusing on the market gardening robot Oz are already bearing fruit with its clients. Roel Van Erp, Head of Smart Farming at Abemec, discusses his reasons for taking a gamble on our agricultural robot technologies.
Abemec is one of the main distributors of agricultural machines in the Netherlands. Its 20 or so points of sale, spread throughout the country, cover the areas where there is the most farmland. With turnover of 86 million euros in 2018, it is a
key player in the market, offering excellent customer service and with a desire to provide "high-tech" solutions, capable of meeting the changing needs of local farmers.
With this in mind, the company developed the "360 Degrees Smart Farming" intelligent agriculture programme, training teams dedicated to software and to specific robotics-related mechanics (GPS-RTK, autonomous driving, machine guidance, etc.). "We believe in specialisation and have seen that by creating this team, we have made rapid progress in the intelligent agriculture market. And with 45 sales representatives on the ground every day in direct contact with end users, we can offer real prospects for the future of robotisation and automation ", according to Roel Van Erp.
Sustainable alternatives for local agriculture
The inclusion of Naïo's robots in the Abemec catalogue is part of this approach. The distributor is convinced that the sector must find alternatives to the current solutions used in fields.  Roel Van Erp: "The market is changing rapidly and there is a need for smaller, lighter machines in particular. It is becoming increasingly difficult to find the right staff, and the legislation surrounding pesticides is evolving rapidly. At Abemec, it is our duty to give our clients the right solutions in terms of agricultural machines for a more sustainable agriculture. Solutions that are viable today and will still be viable in 20 years. Naïo's Oz and Dino robots caught our attention as we believe they provide practical solutions to these issues".
Abemec therefore acquired its first Oz robot, for use at demonstrations conducted with its clients. "When we present Naïo's products, our clients congratulate us on taking the lead in terms of agricultural robotics but remain sceptical about the possibilities offered by the technology. Then, as the various crop demonstration progresses, and the farmers begin to understand that the robots can and will do the work, their perception changes, becoming increasingly positive. This is reflected in the sales we make". Won over, two agricultural companies took the plunge and adopted their own Oz for weeding and hoeing their garden market crops.
A Dutch market at the forefront of innovation
The Netherlands is well-known as a pioneer in agricultural innovation. Despite its small size, it is the second largest exporter of agricultural products in the world. Its specialised crops, such as nursery plants and seeds, make it a high potential market for agricultural robotics, such as those designed by Naïo Technologies. "New sustainable growing and food production methods are of great interest to Dutch agricultural companies, which attach huge importance to seeking out innovative solutions to enable them to offer sustainable products while remaining profitable", states Roel Van Erp. "Abemec's aim is therefore to offer innovative agricultural machine solutions, now and in the future.