Naïo is back from the Agritechnica 2019 international trade fair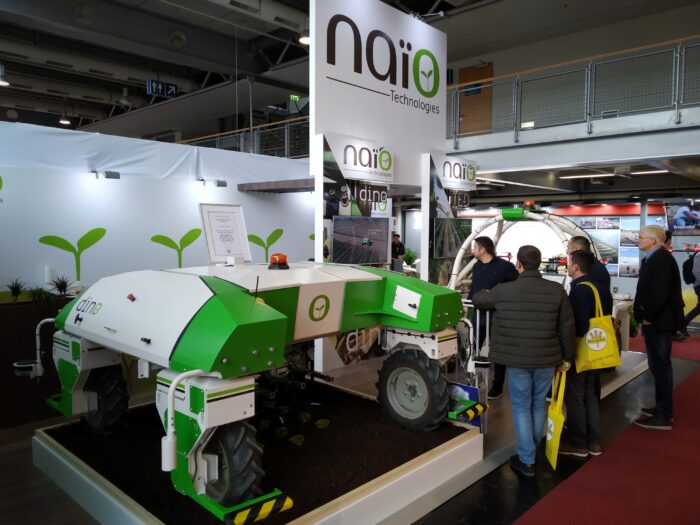 On the theme "Global Farming, Local Responsibility", this year's Agritechnica trade fair was an essential stop-off for Naïo's teams. Feedback on an intense week, packed with meetings and events, at which our work and vision were recognised!
From 10 to 16 of November, a Naïo Technologies delegation was present at Agritechnica, the world's leading trade fair for agricultural technology, which took place in Hanover, Germany. There, Naïo was awarded the silver medal in the Agritechnica Innovation Award. The only French agri-manufacturer to receive an award, competing against projects by major players in the sector, Naïo unveiled its all-new innovation, an all-round solution for precision weeding with our robot Dino.
"Just being there was a great first for Naïo, with two stands and the full range of robots, at this key, global event for agricultural technology. This trade fair signalled strong interest from the global agricultural community in agricultural robotics. This topic is now "coming out of the shadows", with many projects presented… but only one award winner!" rejoiced Matthias Carrière, Commercial Director at Naïo.
For one week, visitors strode down the aisles of the various pavilions and many stopped at Naïo's stands, one of nearly 3,000 exhibitors at the trade fair. It provided an opportunity to discuss the performance and features of Ted, Oz and Dino and to answer questions about the future, of interest to industry professionals. "From the farmers right through to the importers we met, a common theme emerged from our exchanges: we need to find solutions to reduce inputs and to respond to the labour shortage in the sector", states Matthias Carrière.
Packed with AgTech industry players from across the globe
Asia, Eastern Europe, North and South America, Oceania… every continent was represented at the Naïo stands, with more than 200 contacts from diverse backgrounds over several days. The trade fair provided an opportunity to make many new contacts, to strengthen relations and forge new ones and to further showcase our autonomous robots while defending our concept of tomorrow's agriculture. For Caroline Lemarquis, Key Account Manager at Naïo, "the experience has been very positive! After several meetings organised in advance with potential major clients, each left with a concrete offer, on which to work. We will continue talks with most of them at the FIRA. The trade fair also enabled us to put faces to names, some discussions having taken place purely by telephone up to that point, and to identify new contacts within already familiar organisations".
The teams were able to talk with future clients but also with distributors from various countries, interested in our autonomous solutions, and even with potential suppliers of technologies that could support Naïo's R&D projects.