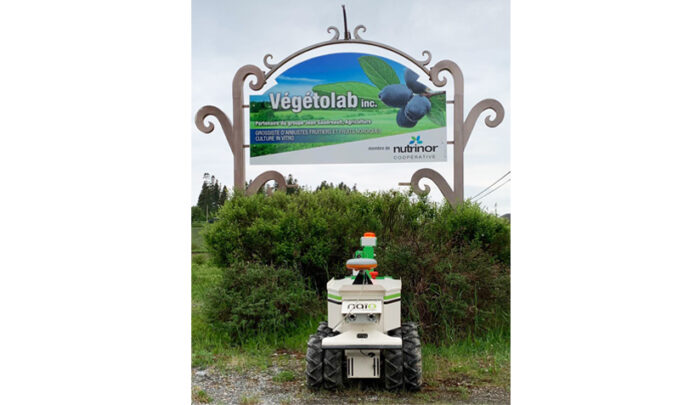 Martine, Director of Vegetolab and Producer of Blueberries, Camerises and Sea Buckthorns in Canada, have been using Oz for several months. Its objective: to be able to establish orchards and maintain them easily while avoiding the expenses related to plastic mulching.
An encounter with GMABE, Naïo distributor in Canada
Two main incentives led Martine to find out about Oz: the lack of current manpower she was having to deal with, as well as the regular costs linked to setting-up the orchard – plastic mulch etc.
In 2019, after some research on the internet, she discovered the agricultural robotic solutions offered by Naïo Technologies and the Oz robot in particular. She was able to develop this project further and take the first step by making contact with our Canadian distributor, GMABE.
"I got in touch with the dealer and it all clicked into place when I chatted to one of the group's shareholders, Benoit. Following this, he came with the robot in October, when conditions were difficult in the field for trialling it; that convinced me. The latest version of Oz fitted with GPS RTK guidance is a real bonus, according to her. "I wouldn't be without the GPS now".
"Thanks to the robot's precision, its options for use are impressive".
After a few months' use, Martine tells us how she feels: "Although I haven't yet done everything I'd like to with Oz, I wouldn't be without it. I still have to gain some more knowledge and tasks I'd like to get it to do. With the robot's precision, the options are impressive".
Using Oz allows for maximum efficiency, according to Martine. "You just need to take a little time at the beginning to become familiar with the robot. Oz isn't just an on/off button, and that's a good thing!".
Agricultural robotics are gaining in popularity in Canada
Benoit St-Laurent, Chairman of GMADE, tells us about the popularity of agricultural robotics, with the conversion to organic by many Canadian farmers.
"It's even more popular since the arrival of the GPS RTK this winter on Oz" he tells us. According to him, the robot's significance no longer needs to be proven, even more so this year within the context of the lack of manpower. Oz could quickly become even more popular as soon as the Canadian finance programmes factor in agricultural robotics.