Large-scale vegetable weeding in Canada with Dino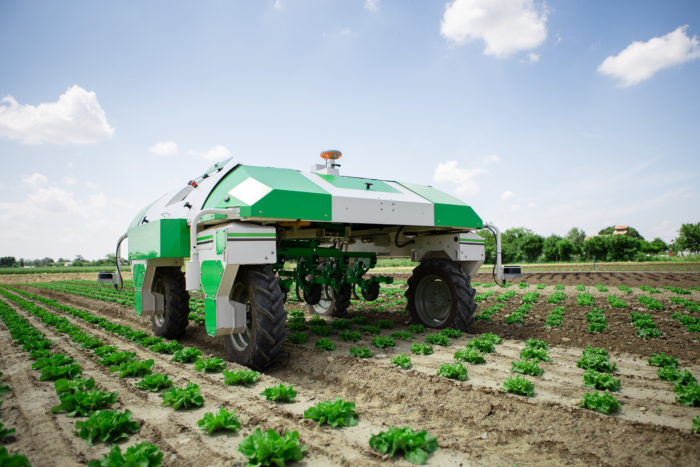 We've already mentioned it a little while ago: our Dino robot has crossed the Atlantic to weed vegetable crops in California and Canada. The large-scale vegetable weeding robot has a distributor in Canada and is now ready for action. It will be put through the test in Canada's Saint-Jean-sur Richelieu Agricultural Research and Development Center, south-east from Québec.
Agriculture in Canada: green and sustainable
Dino's North-American adventure started last Autumn. Our large-scale lettuce and vegetable weeding robot had drawn the attention of GMABE, a Canadian distributor who specializes in the import of innovative farming technologies. The company was looking for new weeding solutions for farmers who wanted to transition to organic farming. A number of Canadian farmers are trying to diminish phytosanitary weedkillers or replace them with a more eco-friendly technology. "While we were browsing the web, we came across a video of Naïo technologies' robots," explains Benoit St-Laurent, GMABE's CEO . "We got in touch with the team and our discussions went so swiftly that we are now Naïo Technologies' first North-American distributor, an achievement we're all very proud of."
Testing Dino's weeding skills on Canadian soil
At the same time, the Canadian government also showed interest in one of Naïo's weeding robots, more specifically in the Dino large-scale weeder, for its Saint-Jean-sur-Richelieu Agricultural Research and Development Centre. This Canadian centre for farm research specializes in precision horticulture. They test and evaluate a range of technologies to validate their use on Canadian soil and under Canadian climate conditions. Following a tender procedure, Naïo's robot was selected to weed vegetable crops in the Québec area. "This is a fantastic opportunity for us," continues Benoit St-Laurent. "We will be able to organize demos for other Canadian researchers and, potentially receive requests for weeding robots in other Canadian research stations. This will also allow us to show Dino in action to vegetable farmers in the East of Canada."
You'll find more information on the Dino robot right here.
A very positive welcome for autonomous farming robots