Dino weeds garlic in French fields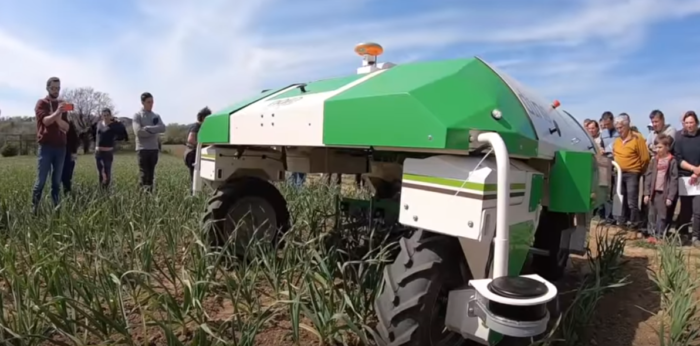 Last April, Naïo's Dino robot was invited by French farmer cooperative Valsoleil to show off its garlic weeding skills during a technical demo day. The Valsoleil Cooperative did not only bring together garlic farmers from the Drôme department, but also from the neighboring departments of the Tarn, the Centre and the Nord. Their presence highlights the garlic sector's interest in alternative weeding techniques for their crops.
Valsoleil, a Naïo technologies distributor
Valsoleil is an upstream purchasing cooperative for cattle, fruit & vegetable farms and large-scale crop farms, which also collects fruit and cereals, such as apricots, walnuts and tomatoes.
The cooperative deploys over forty advisors in the field for its 3,000 members and became Naïo's distributor in the Drome region in August 2018. "As a cooperative, we want our farmers to have a good life. Since the use of weedkillers has diminished, we became Naïo's distributor to offer an alternative approach to manual weeding, while making sure our cooperative's agricultural activity remains sustainable in the Drome department", explains Simon Cornut, technical advisor with Valsoleil.
Over the last year, Valsoleil has organized two public demos for the Dino robot. One in September 2018, where Dino weeded thyme crops and another last spring, which was organized in collaboration with the Drome Chamber of Agriculture last spring and where Dino worked on garlic crops.
Mechanical weeding solutions for the garlic sector
The garlic sector is especially well established and structured around the city of  Montélimar and south of Valence. The Drome department is France's main producer of garlic seeds, its third largest garlic user and the first for organic garlic use and seeds. This position can be attributed to the sandy soils in the area, which allow for easy soil work.
"The issue of garlic weeding has become crucial: some weedkill products  (such as l'Emblem Flo) have recently been prohibited and we no longer have remedial solutions for spring weeding. Mechanical weeding consequently draws increasing interest for this crop with high added value", details Simon Cornut.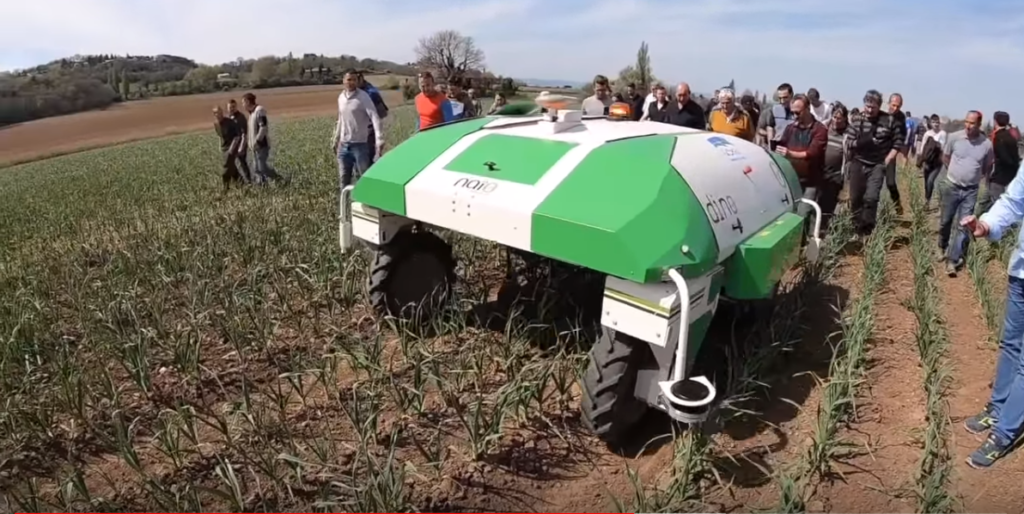 The demonstration of the Dino robot on garlic crops offered a true première. "We tested the new camera guidance software on onions last week, and the results were fantastic", comments Simon Cornut. What's more, Dino also used the new Kult tools, which proved their excellent quality under the approving eye of the surrounding farmers.
Over 100 people, 50 of whom were farmers, attended the technical demo, which even drew farmers from the famous pink garlic area in the Tarn department. All had come to discover a range of new alternatives to replace traditional weedkillers:
Two different Monosem hoes were attached to tractors with Kress plowshares and fingers
Two spiked harrows from Carré and Treffler
The Robot Dino with Kress plowshares and fingers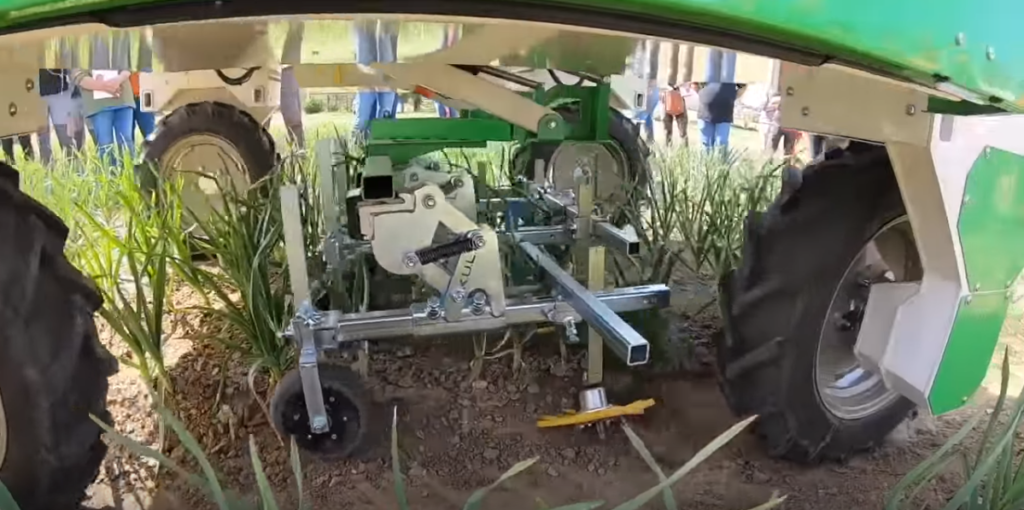 "The participants were blown away by the precision level of Dino's guidance system, and by the camera's adjustments", states Valsoleil's technical advisor. "Even on a slightly inclined plot, the robot remains efficient. A lot of garlic seed producers consider robotics to be the way forward when it comes to weeding. As a distributor, we've made the right choice! We're on the right path and everybody learns at the same time."
The above video has been posted on YouTube by organic farmer Gaël Blard during the Drome Chamber of Agriculture'd technical demo day.
Dino increases crop versatility 
"So far, Dino has mostly been weeding vegetables, such as lettuce. By adding garlic crops to the list, the robot becomes increasingly versatile. We'll keep adding crops to the list to answer the needs of farmers and help out as many as we can," concludes Paul Pampuri, Naïo's sales representative for South-East France.
As to Valsoleil, they are currently mapping an industrially sized plot of tomato crops for an organic farmer and aim to increase testing procedures on tomatoes, lettuce, and parsnips in the Romans area in the course of 2019.
We'll keep you posted!
Photo credits : Gaël Blard, organic farmer