Dino crosses the Atlantic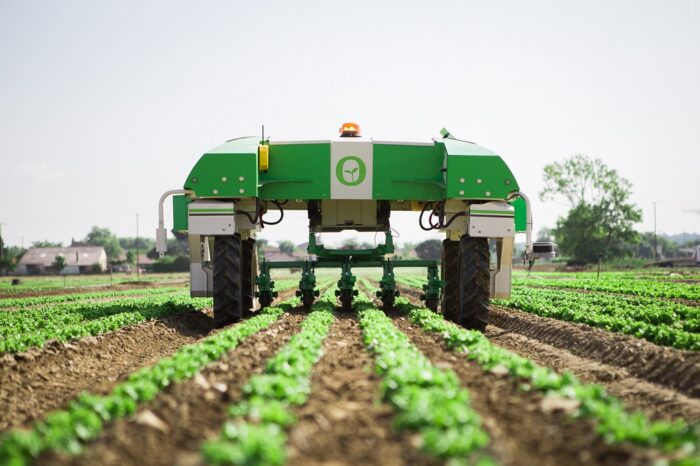 At the end of last month, Naïo Technologies' Dino large-scale vegetable weeding robot set sail for Salinas in California to try out its tools in the soil of what's dubbed as the "Salad Bowl of the World". This Californian region effectively produces 80% of all American salads and lettuces. It is also the ideal playground for Dino, as farm labor is crucial to the area.
Gigantic stretches of vegetables
Even though America's food crops are very diverse and spread all over the territory, California holds a place of choice. Thanks to the irrigation systems in Central and Imperial Valley, the state of California alone accounts for 13 to 15% of America's agricultural GDP and exports a quarter of its farm products via the Los Angeles and Oakland harbors. California's warm climate is tempered by the ocean's proximity, turning the Golden State into America's main vegetable provider (tomatoes, lettuce and salads, spinach, cabbages, artichokes….). The area grows 300,000 hectares of vegetable crops through most of the year, except between December and March, when vegetable production moves to the neighboring state of Arizona, where temperatures are higher.
In spite of these impressive numbers, vegetable farming is still hardly automated in California and a lot of the harvesting and weeding work still requires manual labor.

The challenge of manual labor
As is the case in Europe and Japan, the United States are currently facing manual labor shortage. For a long time, American farmers could rely on low cost manual labor ($2/hour), mainly from Mexico. However, since 1999, the minimum wages of farm workers have fluctuated between $11 and $15 an hour, depending on the State. (California : $13.92). The intensified struggle against illegal immigration has also added to the shortage of manual workers willing to accept straining field work under any conditions. At the same time, the surface of organic farms, which have a very high manual weeding cost, keeps on growing.
In this context, American agriculture is highly favorable to electric and autonomous weeding robots, such as Dino. Especially since Californie hosts the epitome of technological innovation: Silicon Valley. As soon as Customs formalities are dealt with, our robot will start its demo tour at our partnering farmers.
Another episode of Naïo's adventure on the American continent is already in the making: another Dino robot is ready to be shipped to Canada. More on that coming soon!