Customer spotlight : organic vegetable farmer Dimitri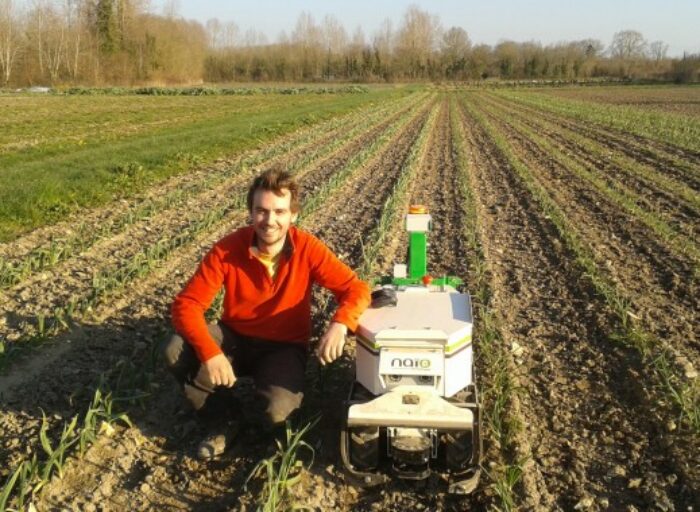 At Naïo Technologies, we value our customers. Every month, we give the floor to one of them to talk about their daily work, the difficulties they meet in terms of soil, weeding, crops, planning,… and the solutions they've come up with. This month, the spotlight shines on Dimitri Venant-Hermouet, an organic market farmer from Prin Deyrançon (79), France. He talks about crop planning,  rotation and how he uses the Oz agricultural robot to weed, hoe and carry loads. 
Dimitri, can you tell us more about your  farm?
In 2011, I took over my family's farm, which was a standard cereal farm in every way. When I began, I added organic vegetables to the mix and I gradually converted more cereal crops into organic vegetable plots.
Today, my associate, his partner and I farm a total of 90 ha, 5 ha of which are entirely dedicated to organic vegetable farming. We produce a wide range of vegetables: some 60 different species and varieties and all are organic! We grow all types of vegetables, which enables us to offer fresh produce throughout the year.
In terms of distribution, 90% of our vegetables are sold directly at our roadside vegetable stall twice a week. Average stall orders reach about 12 to 13 € per customer. We also sell 10% of our vegetables to organic marketplace La Ruche qui dit Oui ! and some excess stock to specialized organic stores.
To increase vegetables sales, we've also adopted an original concept, i.e. pick your own vegetables. In 2012, we've started opening up our farm for a day and a half per week in the summer months. We give our customers a pruning shear, a knife, a wheelbarrow and a plan of the vegetable plots in order to allow them to pick their own. This approach has a double advantage: customers discover what we grow and how we grow it thanks to small signposts and we gain an enormous amount of time. This allows us to offer PYO vegetables at a price/kg that is 20% to 50% lower than our official direct sales price. The discount depends on the time it takes to harvest the vegetables, which is time we get to save! Green beans, for instance, take up quite some time and PYO customers benefit from a 50% discount. When customers go around our plots using wheelbarrows, they tend to fill them up and average sales are double of what we sell in our stall!
As for our cereal crops, we sell them to farm cooperatives, except for the part of our lentil production we sell directly in the stall.
How do you plan your crops ?
At the start, we didn't really plan out the crops, we just sowed and planted what was in season. When I began, I didn't really know how much of our crop I'd be able to sell directly and how many plants I needed to buy… I conducted some market research, which helped a bit to lay the groundwork for our planning. Today, we've refined our approach and we buy seeds and plants based on last year's sales.
When I started out, I'd created a small internet blog with forms to fill out in order to get some feedback on the eating habits of potential customers and to learn what type of vegetables they were interested in. I'd made some very small flyers with the blog's address, which I'd distributed to every mailbox within 15km of the farm. I got 150 answers, which served as a basis for my production. The email addresses were used to inform about my upcoming stall. When I was ready to sell the first vegetable production in our stall, people already knew me and I immediately had my first customers, which were soon followed by curious passers-by.
Today, our customer base is more stable because everyone knows the stall. Since I now have a good idea of the potential sales volume, I know I need about two greenhouses of mediterranean vegetables, such as peppers, eggplants, zucchinis, tomatoes…, which is about 1000 m² to fill the need for one season.
To plan crops, I use the orders from previous years to calculate what I need to plant and sow, which is pretty similar from one year to the next. I have a notebook in which I write down everything I do. However, since our products are totally natural and we don't have predefined stock, planning can sometimes be very tricky because you never know how much crop will be lost to disease or bad weather.
As for crop rotation, I use a large A3 paper sheet on which I detail every year's crop position as compared to the year before. Crops are rotated depending on the soil condition, previous leaf diseases and crop yield. After a legume, I generally choose a leafy crop, I never use the same vegetable family in the same plot for two years in a row.
What did the Oz weeding robot change for you?
I mainly use it in full season, in an open field with loamy soil. Thanks to Oz, I was able to increase our production of autumn and winter vegetables with a longer shelf life, such as potatoes, onions, garlic, shallots, leeks, cabbages….  These crops take up a lot of space. I plant large amounts of them in autumn and spring and the robot is an enormous help in weeding and hoeing. I haven't used the robot for my summer crops yet because I cover them with plastic and I haven't tested the robot for that yet.
The robot really saved me a great amount of time on the cabbages last season: there were no weeds left at all! The machine does all the work and I can do something else in the meantime!
What's your opinion on agricultural robotics ?
I think it's a good thing to take away the strain and drudgery of weeding and it also avoids health issues, such as back problems. This being said, I don't think that robots should take over jobs, but it's very complicated to find people who're still willing to do the hard work of weeding and hoeing… The robot just makes the whole weeding process more enjoyable and flexible: it weeds exactly when you need it to !
Oz is also interesting in Follow Mode, with a vegetable crate on its back: it avoids us from having to carry heavy loads over long distances. It really makes a difference when you need to distribute plants over a large surface or when the tomatoes need harvesting,…
For more about Dimitri and his organic vegetable farm :