Agricultural robotics serving the global food challenge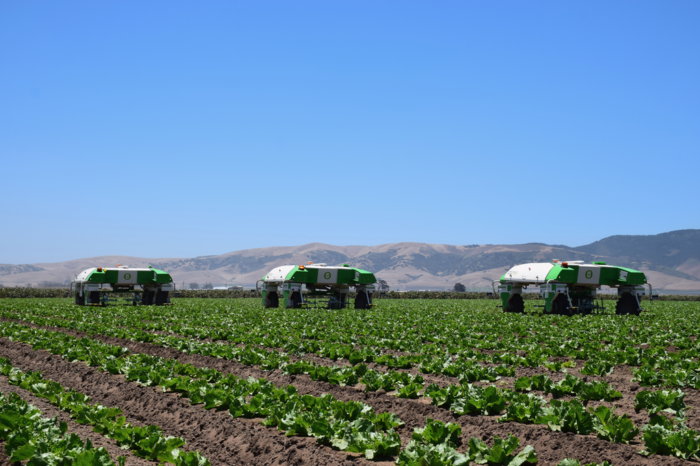 D-30 for FIRA! – FIRA, International Forum of Agricultural Robotics, is taking place in less than a month! This year Naïo is a sponsor of the event and more specifically of the Food & Farming theme. Our founders were interviewed for the occasion on their vision of the global food challenge and how agricultural robotics can help build a sustainable future.
With the world's population set to hit a whopping 9.6 billion people by 2050, the agriculture industry is acutely aware of its role in feeding the masses. The impending global food crisis asks a tough question: Is there a way to feed the world without destroying the planet?
Part of the answer lies in developing sustainable agriculture systems. As farmers rise to the challenge of growing enough food, technology companies are stepping up to help them do it smarter, faster and with a smaller environmental footprint. One such innovator is Naïo Technologies.
A leader in the realm of agricultural robots and autonomous guidance systems, Naïo Technologies co-founders Aymeric Barthes and Gaëtan Séverac built their company with growers' biggest pain points in mind. The two engineers spoke to many farmers who struggled to find enough labor to support their operations, which inspired Barthes and Séverac to provide technological solutions. That work continues today.
"The main challenge is that there is a growing population, and in parallel, we need to take care of the environment in order to have a sustainable future," Barthes and Séverac say. "If it is just about continuing to grow food in the way we are used to, things would be manageable, but we, as humans, fear that some of our practices are not sustainable. Robotics and new technologies are one part of the solution."
This means that in addition to initiatives that focus on boosting crop yields, championing the use of cover crops, and minimizing food waste and loss, a significant amount of technological innovation will be required to help the agriculture sector meet its rapidly increasing production goals. Robotics offer a viable solution. Not only do autonomous machines give farmers the gifts of accuracy, efficiency and better decision-making, they do so without sacrificing natural eco-systems or fertile farmland.
"Thanks to robotics and new technology, we can offer a more accurate and efficient agriculture industry. Our goal at Naïo is to find and market viable and eco-responsible robotics solutions to enable more sustainable agriculture. » concludes Aymeric Barthès.