A new Division Sales Manager for Germany & Eastern Countries at Naïo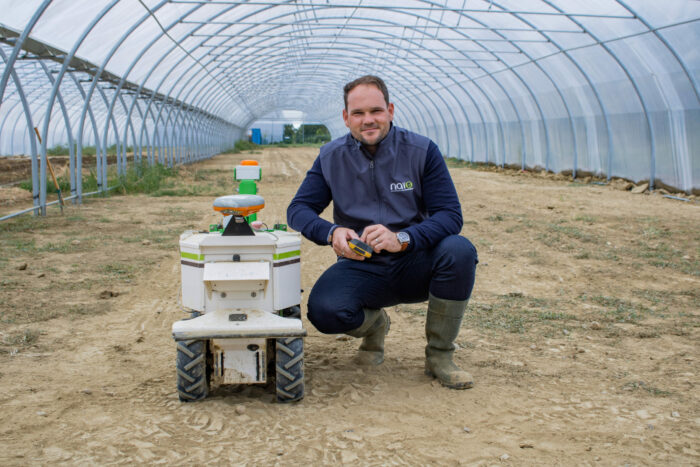 My name is Cornelius Donath and I scratch already the 40. Time to challenge myself and to break new ground! I'm thrilled to start my new role as Division Sales Manager at NAÏO TECHNOLOGIES becoming responsible for the Dutch, Austrian and German market.
Since the beginning of my career I am working in sales in the ag industry. Making automated steering systems to a base option on all ag machinery was my passion. That task is more or less completed and now the next evolutional step is robotics. While continue to expand and maintain our partnerships with Abemec in the Netherlands, BayWa and K.U.L.T. in Germany and RWA in Austria, it excites me to grow the business by providing the farmers of today with incredible cutting edge robotic solutions.
Where do you come from?
I grew up in eastern Germany in the state Saxony. I spent the first 6 years of my career on the coast of the Baltic Sea and since 2012 I live in Leipzig.
Why have you decided to join Naïo's adventure?
The last month tremendously opened everybody's eyes how fragile the production of work intensive high value crops is. Therefore I am convinced that in near future automation in agriculture becomes essentially. I have always enjoyed to work with early adopters and with the solutions Naïo offers we are perfectly prepared for that upcoming (r)evolution.
Becoming a member of a team which is willing to enable healthy and productive agriculture in full respect of the environment makes me really proud.
What will be your main missions?
My main goals are to increase the recognition of the beneficial power which is concentrated in the Naïo robots. In the first steps I will continue to expand and maintain our partnerships and find new collaborators for a healthy growth.
How do you see the market of agricultural robotics in Germany?
The German market for robotics in agriculture is accelerating, but still in the beginning. That's why it is more than important to step into it to become a leading brand who defines the trends. To partner with the most professional sales and service companies in the hot spot area is the key to success.
What will it bring to farmers?
With the growing economy in Eastern Europe the labour shortage becomes more relevant than ever and with our robots we can help farmers to sustainable grow high value crops with a calculable costs and risk.
Reliable results, consistent performance, better predictability and less input costs shall allow farmers to produce more profitable and finally to invest more into environment and employee friendly pillars. This makes their company's attractive to the potential employees and can help to stuff the lack of motivated and well educated people.