18/19 Nov. 2016 – International Agricultural Robotics Forum: VIDEOS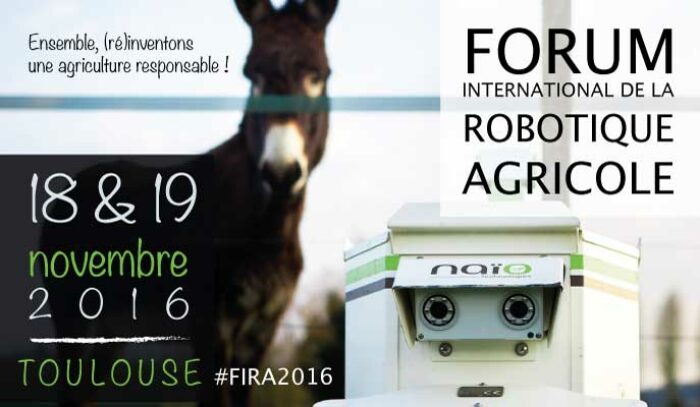 VIDEOS AND PRESENTATIONS
Friday 18th of November
5.00 PM – NAÏO TECHNOLOGIES' KEYNOTE
5.40 PM – CHAMBRE D'AGRICULTURE DU MORBIHAN
Maët LE LAN, the coordinator of the Bretagne-Sud Experimental Research Station from the French Morbihan Region's Chamber of Agriculture. She talked about her experiments to reduce drudgery in farm work.
6.00 PM – VETAGRO SUPP'
Philippe JEANNEAUX, the VetAggro Sup teacher/researcher in rural economics, had to cancel at the last minute. Gaëtan Séverac presented his work on the challenges farms have to meet in a time of digital revolution.
6.20 PM – SONY CSL
Peter HANAPPE and David COLLIAUX, both of which are researchers at Sony CSL, presented the robotics projects of the Sony Computer Science Laboratory.
6.30 – AGCO FENDT
Thiemo BUCHNER, R&D at AGCO Fendt, introduced the MARS project on Mobile Agricultural Robot Swarms.
6.40 pm – BOSCH DEEPFIELD ROBOTICS
Maurice GOHLKE, a robotics software engineer at Bosch Deepfield Robotics, presented Bosch's projects in agricultural robotics.


7.25 pm – PRECISION MAKERS
Allard MARTINET, the Director of Development at Precision Makers, talked about the applications of autonomous vehicles for agriculture and mowing.


7.35 pm – GROUPAMA
Guillaume SUC, Agricultural Machinery Offer Manager at Groupama insurers, gave a presentation on robot and IoT insurance.