100th Oz robot sent into farm fields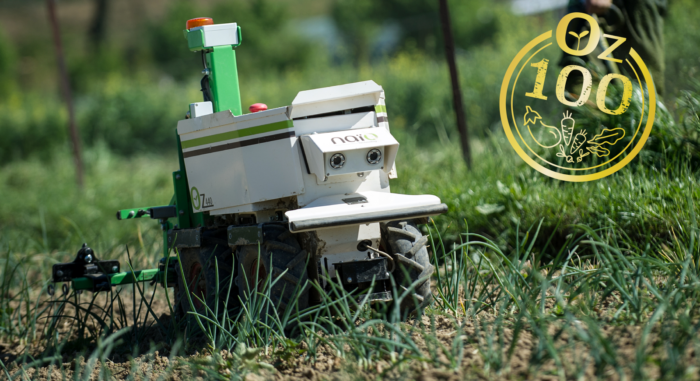 The times when robots in farm fields were referred to as the "future of farming" lie behind us: a number of farmers have already included farmbots in their daily routine to automate part of their tasks. In this context, Naïo Technologies announces the shipment of their 100th Oz weeding robot during the International Agricultural Trade Show in Paris.
The mad adventure of Naïo Technologies' agricultural robots
In 2011, few believed the idea held promise, when Gaëtan Séverac and Aymeric Barthes saw the need for better weed management for vegetable farms. The sector suffers from labor shortage, has to limit the use of weedkillers, needs more time for tasks with higher added value, a solution to lighten the physical workload…
Naïo Technologies' first customers helped the then very young, but highly motivated R&D team to tackle their crazy challenge. "I'd seen Oz on a television show about agricultural robotics and I thought: I could use that on my wicker farm," remembers Patrick Boyer of the Osier du Gué Droit wicker farm in France. "When wicker plants reach a certain height, the weeding has to be done manually. That's where Oz comes in: it easily moves through the rows and saves us loads of time. I've gained a new co-worker and would never go back again".
"For Oz, we started with the toughest challenge: a robot that could weed all imaginable types of vegetable crops," recalls Jean Inderchit, who has been the R&D manager for the Oz program from the very start. "The robot was difficult to fine-tune but the thought of giving up never even crossed my mind. When we compare the first Oz robot to the current SN100, not much appears to have changed on the outside, but everything that's on the inside is different!"
"Don't be afraid to fail to make sure you grow," was the daily mantra of the Naïo team while they were working on their robot to make it operational for vegetable farms with a diversified range of crops. After a successful fundraising campaign in 2012, the first prototype of Oz was sent into the open field, which led to the birth of the OZ SN001 in 2013. Since then, 99 other Oz robots have started their weeding chores.
Close cooperation with farmers for constant robot improvement
Naïo Technologies has consistently worked in close collaboration with Oz end-users to ensure the robot's continuous progress. The robot's software was updated in 2017 and 2018, its on-line guidance system was improved with Lidar and camera technology, turn-around was fine-tuned and the robot was equipped with Lithium batteries, BMS, RTK, new tools… Oz users benefit, in near real time, from the French company's constant progress and regular upgrades.
As a consequence, the Oz robot has also met the additional challenge of serial production, in Naïo Technologies' production facilities in Escalquens, in the South of France.

Oz #100 ready to weed onions in Marguerittes (FR)
Christian Giraud is Naïo Technologies' sales contact at Nova Groupe, and the one who sold Oz SN100 to Agnès and Xavier Hévin: "They've been organic vegetable farmers for more than 15 years, with a lot of onion crops. They plan to use Oz to weed the onions, especially in spring, when the weeds often lead to crop loss. When they contacted us, Agnès and Xavier already knew the robot: there had been a demonstration on their farm, so the project was already well on its way."
In 2019, thirty new Oz robots are scheduled for France and abroad, as the company also plans to accelerate international growth.
Learn more about Oz weeding robot here.