Benefits
Dino navigates your field autonomously with a 2cm precision range thanks to a guidance system that combines the information from RTK GPS and other sensors. Dino detects crops rows and adjusts the tools to weed as close to the plants as possible.
Works on lettuce, onions, carrots, parsnips, cabbage, leeks, cauliflower, various herbs (garlic, cilandro, mint, etc) … and much more!
Easy of use is a priority for Naïo Technologies' team. Thanks to its intuitive user interface, Dino is easy to use while being equipped with numerous safety systems.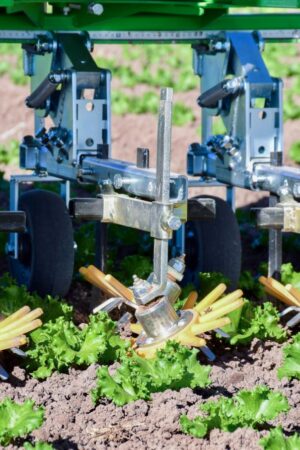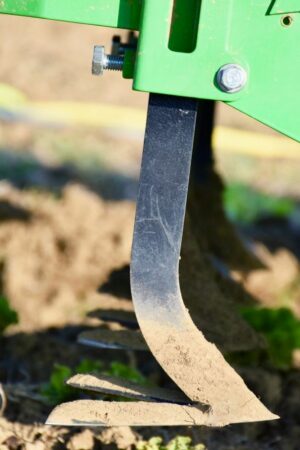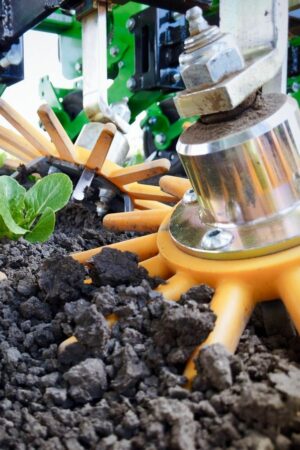 Technical specifications
Camera guided implement Working on multiple green and red crops
Wheels center distance US 76 to 84 inches (60 inches soon), EU 160 to 220cm
Navigation GPS RTK guidance
Autonomy 8 to 10 hours
according to the terms of use
Energy Electric batteries
Speed Up to 4 km/h (EU), 2 mph (US)
Safety Tools supervision, Bumpers, Laser
Weight 1.25 T (2500 pounds)
Work output Up to 10 acres / day
Made in France
I'm impressed by its ability to differentiate crops from weeds and to navigate precisely within the overgrown plots.
The robot is now capable of carrying out real quality work with as good a performance as I had before with my towed hoe. It's quicker than the tractor and the robot is easier to manage. It allows me some free time and, at least, means we don't have to work at the weekends.
Sometimes with standard hoeing, you need to go over again by hand at least once to weed the row of leeks. That hasn't been the case with Dino this year. Weeding is more efficient than classical hoeing.
Having become more familiar with the machine, we have learned to use Dino on plots where there are more weeds than average. The precision of Dino's weeding is very satisfactory, not to say impressive.