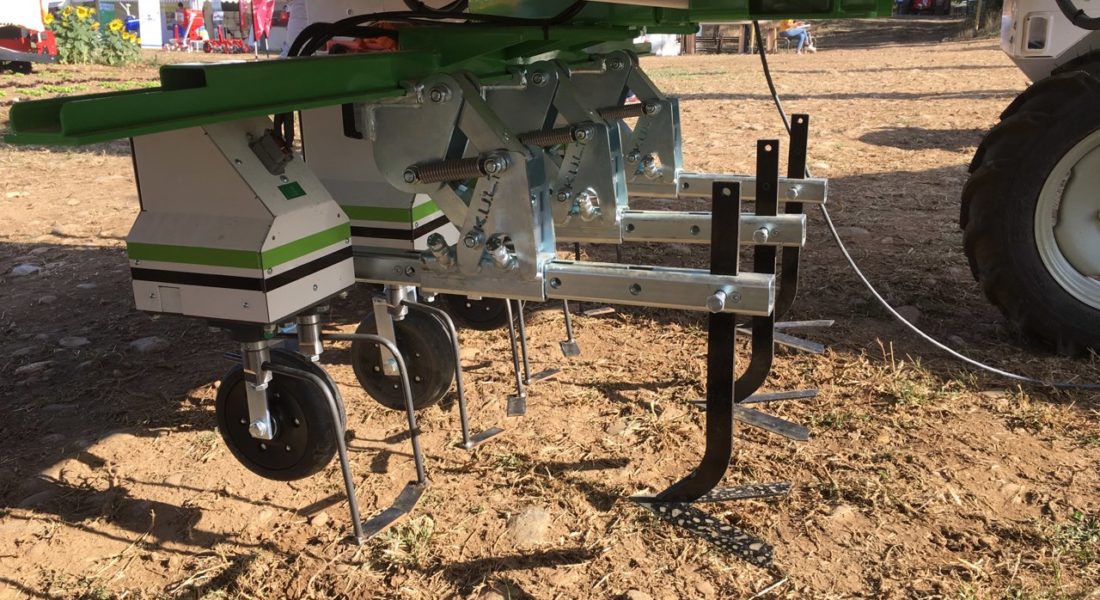 On October 7, 2019
No tall tales told: Naio's R&D teams are currently working on the development of an active tool to weed on the row, around seedlings. Previewed during the Tech & Bio Fair (France), Dino has just been awarded the silver medal of the very prestigious trade fair Agritechnica 2019 for its plant detection global solution. The aim is that the inter-plant tool of Dino takes advantage of existing and successful solutions combined with innovative technologies.While lettuce producers are expecting this new tool to further the use of Dino, let us explain how Dino intends to become a state-of-the-art tool for weeding lettuce.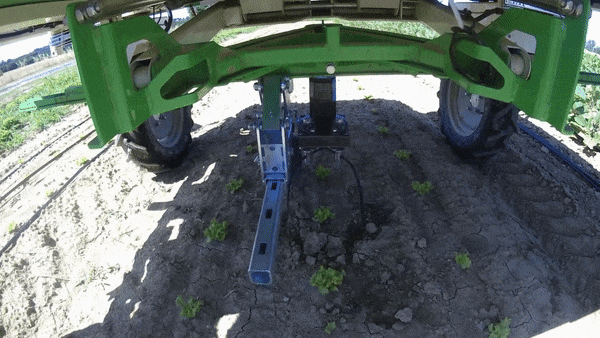 R&D serving row-weeding
An active tool is a tool that is closer to the seedling, so as to provide a work that is both effective and precise. But the first question we needed to answer was: what tools are currently used by farmers and how to get the best out of them to develop Dino's active tool?
Thus our six-member team took its pilgrim's staff en route to Switzerland and the United States, and toured tool producers and suppliers.
It all started a year ago. We went to meet with producers in Europe and North America. They showed us the tractor hoeing tools they use for weeding lettuce seedlings and presented their shortcomings and advantages. The knives turned out to be quite adapted to the needs.
Knives mounted on electric motors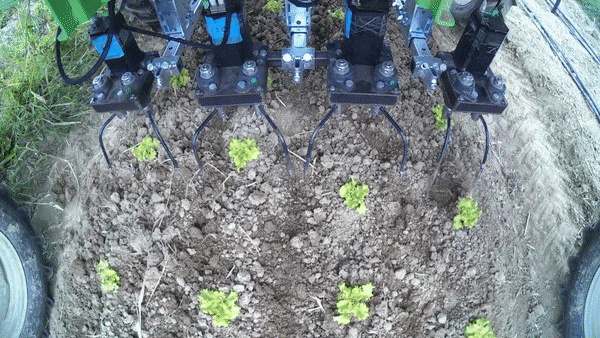 These wanderings enabled us to reconcile the benefits of two solutions. This is how we decided to work on developing knives with a smooth opening and closing movement, thanks to the use of electric motors. This mixing of tools ensures to make the best of existing technologies in terms of fluidity: a weeding guidance system equipped with knives and controlled by electric motors.
Precise detection of any type of lettuce
Regarding the detection of lettuce seedlings, our R&D team has created a deep learning algorithm to identify and localize lettuces with precision, whatever their color (red or green), their variety or their level of ripeness.
Multiple benefits
Besides the autonomous features of the machine, this active tool has many benefits on Dino. First, the fact that it is electric requires little maintenance and avoids discharges of oil into the soils, as it often happens with equipment operating with hydraulic. Then, its smooth movement goes along with the seedlings to conform to them, while carrying out a weeding work that drastically reduces dirt projections. Last, these algorithms provide a highly precise localization of the seedling, and therefore, a closest weeding.
Dino's active tool for row-weeding will be tested in the fields of our partner farmers for next season.
You are a lettuce producer interested in becoming a partner? Contact us !