The OZ toolbox
The spiked harrow
The spiked harrow is a tool designed to mechanically remove small weeds from crop rows.
The harrow contains 10 metal rods that are mounted on a spring and designed to scratch the surface of the soil. The tool is easy going and can be used on well established young crops to remove young weeds.
How to install the spiked arrow on Oz
The spiked harrow can be installed using a flange-type fixation (Image 2) on the sides of the tool carrier (Image 4) or on the tool carrier's lateral extensions (Image 3). It can be adjusted vertically to weed the rows or inclined to weed row sides or ridges (Image 4). The level of inclination can also be adjusted with the butterfly screw located on the spiked harrow. The harrow can be used simultaneously with other tools to weed between rows (hoe shares or five-teeth harrows).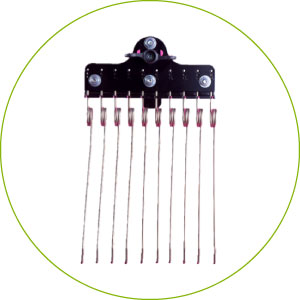 Image 1 : Spiked harrow with 10 metal claws.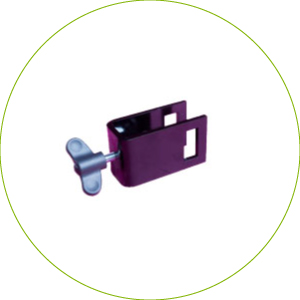 Image 2 : Flange-type fixation to mount the spiked harrow on the Oz tool carrier.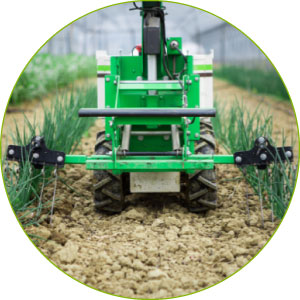 Image 3 : Spiked harrows mounted on horizontal extensions to weed onion rows.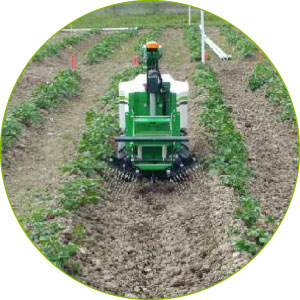 Image 4 : Spiked harrows mounted on the sides of the tool carrier. The level of inclination is adjusted to weed potato ridges.
When to use the spiked harrow
On light and uncompacted soil.
On crops that have already taken root (at least 2 weeks after planting).
On dry soil.
On clay, loamy soil, after rain or irrigation to allow the claws to penetrate deeper in the soil.
On very young weeds (at the filament or seedling stage). The spiked harrow is less efficient on well developed weeds.
If your crop is already well established and/or very leafy, the spiked harrow may destroy part of the leaves or, worse, unroot plants. It's therefore possible to remove one out of every two claws to continue weeding well established crops. Please note that this configuration makes the weeding less efficient.
We strongly advise to alternate between the spiked harrow and the weeding brush in order to increase weeding efficiency by creating and deconstructing ridges.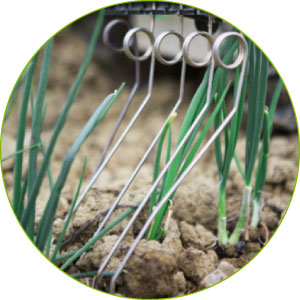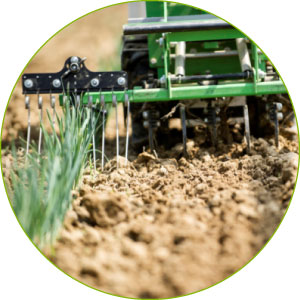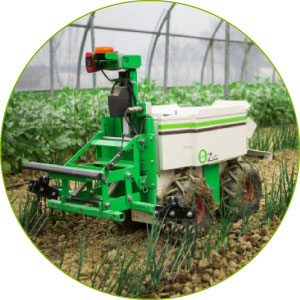 Need more information on the Oz spiked harrow?
Don't hesitate to contact our technical support team