The Oz robot Toolbox
The hoe share
The hoe share is a non-selective mechanical weeding tool used to remove weeds between crop rows by tilling the soil.
The slightly curved blade is highly efficient and works at a depth of 2 to 3 cm and at a width of 20 cm.
How to install the hoe shares on Oz
The hoe shares can be attached to the tool carrier with a long flange-like fixation (image 2). It's possible to use up to 3 hoe shares simultaneously in order to work at a width of 60 cm (image 3).
Please note that if the blades are placed at a wider distance than the robot's frame, it will be necessary to adjust the program Oz runs on for "distance from edge" in order not to harm the crops. For security purposes, it's only possible to use 2 hoe shares at the center of the tool carrier (image 4). When using this configuration, you'll need to manually push aside the springs in the tool carrier to use the flange fixation.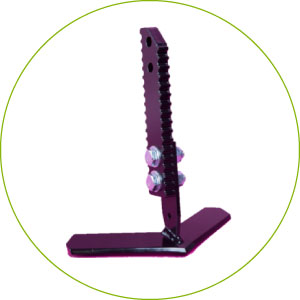 Image 1 : Hoe share with a 20 cm working width.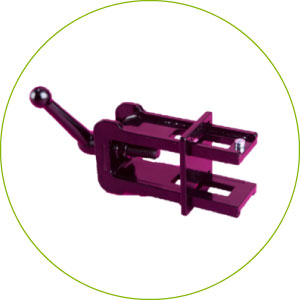 Image 2 : Long flange-like fixation to mount the hoe share on the Oz tool carrier.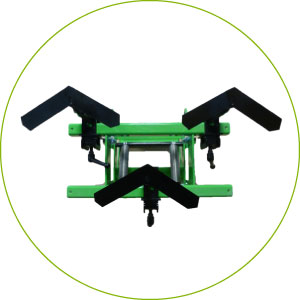 Image 3 : Installation of 3 hoe shares to work at a width of 50 to 60 cm.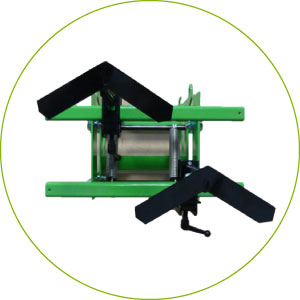 Image 4 : Installation of 2 hoe shares to work at a width of 35 cm.
When to use the hoe shares
On loose and thin soil that has already been prepared. If your soil is easily compacted, prefer the five-teeth harrow.
On dry or drained soil.
As often as possible, since the tool os highly efficient in destroying weeds, especially young ones.
The hoe shares can be used in combination with the weeding brushes. When the shares or placed in front of the brushes (image 5), the blades will feed loose soil to the brushes, which will then create ridges in the rows.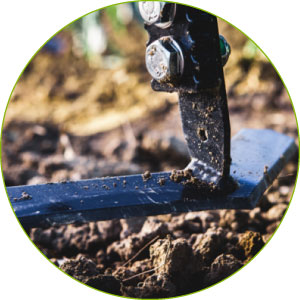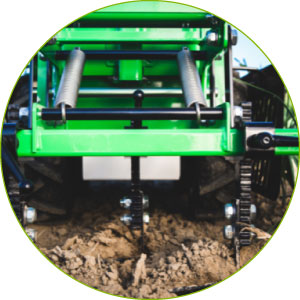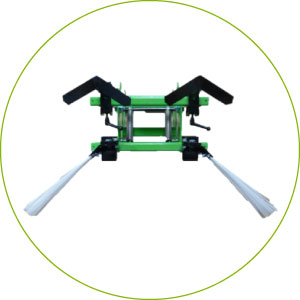 Image 5 : Combination of hoe shares and weeding brushes.
Need more information on the OZ hoe share?
Please contact our technical support team