Oz at your service
The practical benefits of robotic weeding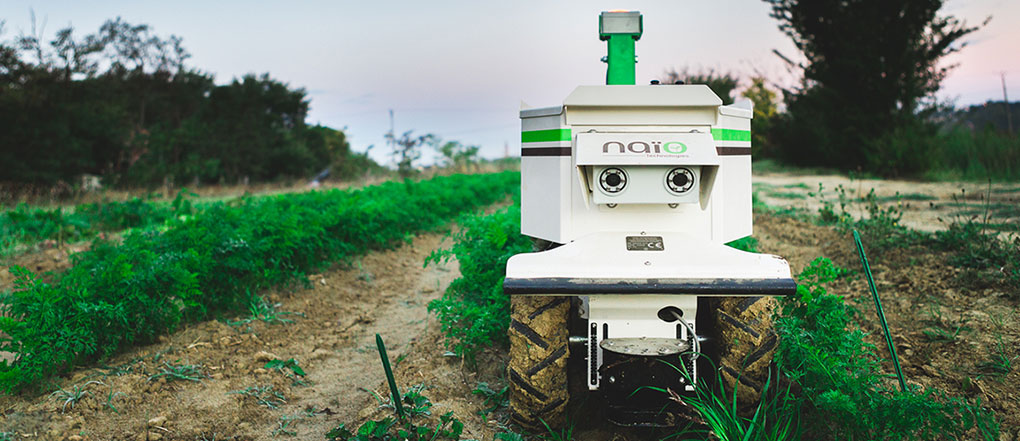 Spend no more time on weeding, let Oz take care of it
Oz is an autonomous robotic weeder: it weeds and hoes your plot all by itself. No supervision required. You can now focus on more important tasks. The time you used to spend on weeding (manually, mechanically or chemically) can now be used to accomplish other tasks. You'll have more time to prepare your orders, monitor crop health, work on irrigation, schedule your work, etc.
Oz makes weeding as simple as it should be. Use your remote control to guide Oz to the plot's starting point. Tell Oz how many rows it needs to weed, how long they are and how far they're apart and it's ready to go! When Oz is done weeding, you'll receive a text message on your smartphone.
Simple, constant and efficient weeding will allow you to consider new ways to improve your business and, appreciably, leave more time for you and your family.
Oz weeds efficiently to increase profitability
Oz helps you accomplish strenuous tasks, such as weeding, hoeing and harvesting. Robotic weeding allows you to save precious time, which you can now spend on more productive and rewarding tasks for your business!
Oz also allows you to reduce the budget for other supplies : you'll need less agricultural input, plastic sheeting and less fuel for your tractor or cultivator. Here in France, Oz only uses 1€ in electricity/hectare.
Oz can hoe and weed as frequently as needed, which stimulates water access, sun exposure and liberates essential nutrients for your crop. Crop productivity will no longer be affected by excess weed. Oz guarantees clean farming plots, which will improve your turnover.
Oz works with a high degree of precision and doesn't unearth weed seeds that are dormant.
Thanks to frequent weeding and hoeing, you'll be able to significantly reduce the seed bank needed for your plot.
Oz avoids laborious weeding and spares your health
The Oz robotic weeder saves you from the drudgery of weeding and helps you transport loads during harvesting. It spares you back and limits the risk for musculoskeletal problems, which are a very common injury among farmers.
Oz runs on an electric engine that does not produce exhaust pipe gasses. This advantage is especially appreciable for those who work in greenhouses and are frequently exposed to this type of pollution.
Oz weeds and hoes mechanically and therefore avoids exposure to toxic herbicides as opposed to chemical weed control.
Oz is eco-friendly and respects your soils and crops
Oz is a light-weight robot that respects your soil and plots during weeding and hoeing, even when it works the ground frequently. Oz only slightly compacts soil and preserves soil structure with the help of its passive weeding tools.
Oz can weed as often as you like. This not only helps to air the soil and stimulate biological activity, it also allows the ground to heat up faster in winter.
One weeding session is worth 2 watering sessions : when Oz hoes and weeds frequently, water loss through evaporation is limited .
Naïo has developed a range of special tools for Oz. They're easy to use and change, quick to set up and allow you to adapt the robotic weeder to your crops and soil.
When you use Oz, you no longer need to use herbicides or other weed control products and you no longer risk polluting your soil and ground water!