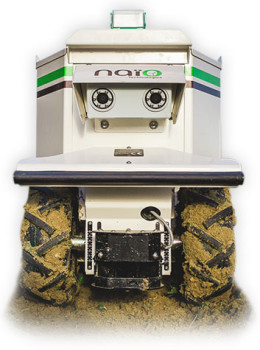 Features & Benefits
OZ WEEDING ROBOT
The Oz weeding robot helps you during weeding and hoeing chores in order to increase your profitability while respecting the environment. It is designed to improve working conditions and reduce your daily workload. Oz is entirely autonomous but you can also guide it to go wherever you need. Learn everything you need to know about Oz by scrolling down this page or click on the video to see Oz in action.
Oz, the robotic weeding magician
IMPROVE YOUR WORKING CONDITIONS
Oz reduces your workload, protects your back, saves you from the drudgery of weeding and limits your exposure to herbicides.
The Oz weeding robot has your back
BENEFITS
Oz works alone and follows your lead
THREE OPERATING MODES
Oz is an
autonomous
weeding robot. It works all by itself, without supervision, to free your hands and liberate your mind. Oz holds
three different operating modes
to cater to your every need :
When in autonomous mode, the robot follows the crop rows of you field and automatically guides itself.
In follow mode, Oz follows your step and transports loads. It can even tow a small farm trailer during harvesting.
Maintenance & Purchasing
OUR SOLUTIONS
Our autonomous weeding robots are designed with great care for reliable precision. They have a 3-year warranty, with the exception of consumables and wear-and-tear.  Please consult the technical data sheet for more information on maintenance. For customers outside of France, tech support will be handled by your local distributor.
Our weeding robots and agricultural equipment are now also available outside of France. Naïo Technologies is currently expanding internationally to make our tools and products available worldwide. Our distributors are selected with care to match Naïo's company spirit of excellent customer service and custom solutions for farmers. Please contact us for more information.