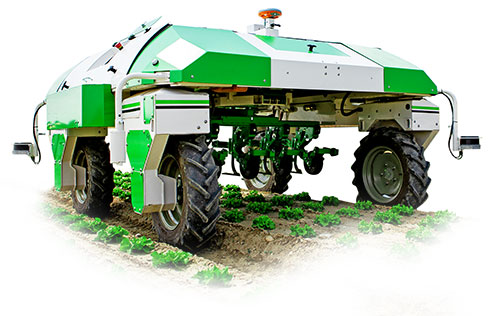 The ideal robot for vegetable farms
AUTONOMOUS VEGETABLE WEEDING ROBOT - DINO
The Dino robot is designed to make vegetable weeding on large-scale vegetable farms easier. Its main asset is that it works autonomously, so you have more time for tasks with higher added value.
Dino is the first entirely autonomous electric robot to mechanically weed vegetable crops. The robot is designed by Naïo Technologies and has been on the market since early 2017. Today, more than 20 robots now weed our customers' and partners' vegetable fields in France and in Europe.
A new era for vegetable growers
AUTOMATED VEGETABLE WEEDING
The Naïo Technologies team is convinced that agricultural robots are THE solution to improved working conditions and profitability for farmers.
To help farmers tackle the increasing regulations on phytosanitary products, the growing concerns with pesticides, and the lack of workers in the agricultural sector, Dino provides a new and effective solution.
The Dino weeding robot allows vegetable farmers to manage crop weeding with a high level of precision, while helping them save time all through the season.
Dino is highly effective to weed vegetables that are grown in the field, both in raised vegetable beds and in rows, such as lettuce, carrots, onions…
The Dino weeding robot, a versatile tool
DINO'S MAIN ASSETS FOR VEGETABLE FARMERS
Dino autonomously takes care of weeding your vegetable crops. The robot reduces workload and drudgery to create better working conditions.
Dino helps you reduce both labor and variable costs.  The robot is totally electric and considerably reduces energy and maintenance costs. It weeds mechanically, which also allows you to cut down on pesticides and plastic crop covers.
The Dino robot mechanically weeds your vegetable crops all by itself. It frees up your hands and those of your team and leaves you more mindspace to help you concentrate on higher value-add tasks for your farm.
Dino is an eco-friendly robot that weeds your crops mechanically with a range of specific tools. The robot is 100% electric and helps you reduce the use of weedkillers while simultaneously lowering your carbon footprint.
Dino allows you to schedule weeding chores at the times that suit you best. As it works by itself, you're now free to accomplish other tasks elsewhere while the robot weeds a given vegetable plot.
The robot is entirely electric, so you no longer need to spend time on the maintenance of your farming tools.
Dino weeds with centimetric precision
HIGHLY PRECISE AUTONOMOUS GUIDANCE
Dino is an
entirely autonomous
weeding robot. It works all by itself, without the need for supervision, at a 2 cm precision range, thanks to its GPS RTK guidance system
.
The robot's weeding tools are also camera-guided. The vision system detects crop rows and adjusts the weeding tools' position to allow for high-precision hoeing and weeding.
To function, the robot follows a very simple system :
Thanks to its vision system, the robots detects the crops and places the tools as closely as possible to the vegetable plants.
Dino, eco-friendly made in France
Technical data
Use: Dino is designed to autonomously weed raised vegetable beds and rows
Size: Length 250 cm / 98,4 inches – Height 130 cm / 51.2 inches- Adjustable distance between wheel axis from 140 to 180 cm (55.1 to 70.9 inches), i.e. a maximum length of 250 cm / 98.4 inches.
Weight (without tools): 800 kg / 1,764 pounds (depending on battery and tool configuration)
Energy: 100% electric – lithium batteries
Autonomy: up to 8 hours *
Traction: 4-wheel traction
Navigation: GPS-RTK Navigation + camera : centimetric precision
Work speed: up to 5 ha per day *
Work width: rows from 120 to 160 cm / 47.2 to 63 inches – inter-row is possible from 15 to 50 cm / 6 to 20 inches
Speed: up to 4 km/hour / 2.5 miles/hour
Other: text message communication with anti-theft tracking device
Origin: designed and manufactured in France.
* Under ideal conditions, these values may vary according to actual conditions of use.
Naïo Technologies offers a range of mechanical weeding tools to handle both in-row and inter-row weeding:
Plowshares: in several shapes and widths
Spiked harrows
Star-toothed harrows
The star of your vegetable fields
WATCH THE DINO VIDEO
Dino weeding robot in motion