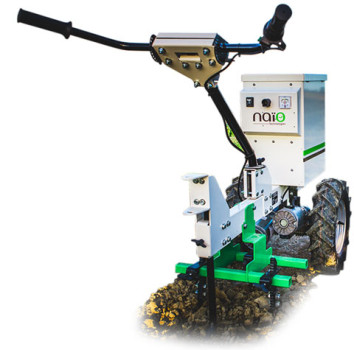 FEATURES & BENEFITS
COSI ELECTRIC WEEDER
The COSI electric weeder is perfect for smaller surfaces. It helps you hoe and weed rapidly and with very little effort. The weeder is robust, environment-friendly and respects your soil. It comes with a range of tools to help you prepare your soil and transport tools and crops. Below you will find more information on everything COSI has to offer. For more information on how COSI works, please don't hesitate to check the technical data sheet.
TIME TO GET RID OF THOSE EARPLUGS
COSI IS SIMPLE, CLEAN AND SILENT
To start the COSI electric weeder
just tighten your grip
. It's really very easy to use. COSI has an electrical engine to limit noise and vibrations.
COSI MAKES LIFE EASIER
YOUR BENEFITS
COSI'S NUMEROUS BENEFITS
A MULTIFUNCTIONAL WEEDER
COSI doesn't only weed or hoe. Naïo Technologies also added extra tools and accessories to make this investment worth your while. The COSI weeder will assist you during soil preparation and sowing and even helps you transport your tools! Please check
Cosi's Technical Data Sheet
for more information on the available accessories and tools.
MAINTENANCE AND PURCHASING
OUR SOLUTIONS
Our COSI electric weeders have been designed with great care for reliable precision. They have a 3-year warranty, with the exception of consumables and wear-and-tear.  Please consult the technical data sheet for more information on maintenance. For customers outside of France tech support is handled by our local distributors.
Our weeding robots and agricultural equipment are now also available outside of France. Naïo Technologies is currently expanding internationally to make our products available worldwide. Our distributors are selected with care to match Naïo's company spirit of excellent customer service and custom solutions for farmers. Please contact us for more information.